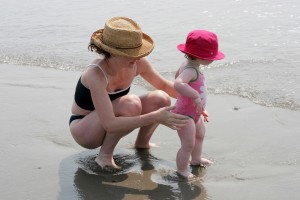 It's hard to make our marriage a priority WITHOUT kids in the mix, but the minute we bring a baby home, everything becomes more difficult. We suddenly have a little, helpless human being who needs our attention, love, guidance, and most of all, time. For mothers, this is a beautiful, yet exhausting time of bonding with the baby, midnight feedings, and figuring this whole "mommy thing" out. We start discovering and developing our inherent mommy instincts, and a big part of that is the strong desire to meet our child's needs. And, this grows deeper as our kids get older.
Our kids are always on our minds, and they should be. We're reading parenting books, looking into the best schools and colleges, and making sure they are healthy and well-rounded individuals. We're attending their activities and going to parent-teacher conferences. We're talking with other moms about our kiddos to make sure we are on the right track and in the know.
These are all good things. Really, they are. But, somewhere along the way, our mommy role takes center stage. We tell ourselves that this is how it is supposed to be. Children MUST come first, right? Our husband is a grown man, so he should understand this. We'll work on our marriage when the kids are grown. We want to give our kids the best life possible, after all. We want them to have the best of everything and experiences that we never had, right? So, of course, this means they are our primary focus until they fly the nest, right? After all, can't our marriage wait?
This is what our culture tells us, and it seems like an honorable stance. We are their parents–their primary providers, teachers, and leaders. So, if we don't make them our priority, then who will?
I get this line of thinking. I do. It's a very common one. But, unfortunately, it has ruined far too many marriages or kept parents in a loveless, lifeless marriage only to divorce when the kids leave. It's the kind of marriage that is only "for the kids" and "with the kids." Sadly, this kind of marriage is doomed to fail unless we change the way we think about motherhood and marriage.
Friend, please understand that I am not judging you if you see things from this perspective. I think it comes from a place of striving the be the best mom you can be. After all, these precious kiddos are a tremendous blessing, and we want to give them a great life. But, we must realize that our marriage can't wait for our children to grow up. It cannot be placed on the back burner.
Our marriage relationship must be prioritized, fostered, and fed too–while we are raising our kids. Not as our husband's "other mother," but as his one and only lover. And, this takes time and intentionality. This requires spending time alone with our spouse. It means we put forth just as much–if not more–time and effort to strengthen our marriage and keep it going strong.
Please click on the CONTINUE BUTTON to see the rest of the article.