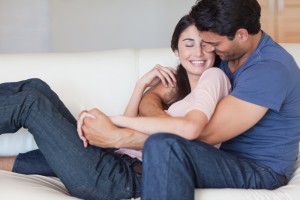 A common mistake we make with our kids is avoiding the subjects of affection and sex all together, while secretly hoping they somehow figure it out on their own.  This is a dangerous risk to take because who knows who they will listen to? Another common mistake is making these the "subjects we do not speak of or act out" in your home just to avoid awkward conversations.  This just makes it clear to our kids that we have no authority in the matter when, under God, we must be THE authority in their lives.  Again, who will they listen to?  I think there are three BIG reasons to let your kiddos see you being affectionate with your spouse:
1.  It makes our kids feel secure in the happy and healthy state of our marriage.
I don't think any kids want to just stand and watch their parents steal a kiss (kind of creepy, right?), but it does remind the kids that spouses love each other.  They probably don't know about all the sacrifices you both make or the sweet little gestures you do for each other, but they can clearly see a heartfelt hug, the holding of hands, or a quick smooch.
2.  It introduces our children to what healthy and appropriate affection looks like, as opposed to what they may see on television or online.
Do we really want our kids to think that kissing is supposed to only happen between two tongue-locked teens on MTV or starcrossed lovers on some reality show?  NO!  We want them to see that marriage is the only place where pure, loving, and real affection and intimacy exists.
3.  It shows our boys and girls that marriage is fun and enjoyable.
Kissing, hugging, touching, and cuddling are more often than not extremely enjoyable, so why not lavish this on our spouse?
I love seeing the big smiles on my boys' faces when Dave grabs me and kisses me.  I hope they see that we love each other,  we strive to have a healthy marriage, and  we are having a blast.  It's not gross at all; it's just a physical expression of love between a mommy and daddy who are crazy about each other, and it is my hope and prayer for our kids to experience the same joy in their own marriages one day.
For more on how to build a stronger marriage, be sure to get your FREE 31-Day Devotional, by clicking here. Be blessed!