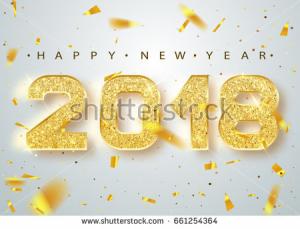 Donald Trump has falsely accused of Muslims in New Jersey celebrating the fall of twin towers on 9/11, but his interview boasting one of his own buildings after the fall of the twin towers may shock you. (Watch the youtube video at the end).
By all accounts, 2017 was a remarkable year in politics, and for interfaith and civil liberty workers. It started with the inauguration of President Trump on January 20 and saw the birth of the Women's march, which I was so honored to be a part of at the gathering in my town- the largest crowd I have seen in the 30 plus years of living in the San Francisco bay area.
We have seen a sharp rise in anti-Semitism, and other hate crimes and speeches against African Americans and other minorities. Even though Black Lives Matter-BLM movement was founded in 2013, it took a new meaning and gained strength in 2017. This post is not an anti-Trump rant, though I am sure it would seem so for his supporters, and I admit, it has that feel. But I do think Donald Trump has emboldened the hate and bigotry against minorities and fueled Islamophobia like never before.
It was a difficult choice since there were so many, but the following is my own take on what I consider to be the five most outrageous and most concerning developments/news.
1. Hate crimes against Muslims and Islamophobia increased.
This is not a single event or news per se, but the trend is very concerning to American Muslims and anyone who cares about civil rights and liberty, and justice.
According to many reports from Council of American Islamic Relations (CAIR), Islamic Network Group (ING) and Muslim Advocates there have been increasing reports of bullying and Islamophobia. According to this report by Southern Poverty Law Center on November 13, 2017, there has been a sharp increase in the incidence of hate crimes against Muslims, including bullying and burning/defacing of the mosques.
As we feared, the FBI's hate crime report for 2016 shows a second straight year of increases – the first time that's happened in a decade. It means that in the last two years, the number of reported hate crimes has risen by nearly 12 percent.[1]
Ok, so this reports goes over the 2016 statistics but it is all but certain that the numbers for 2017 have only increased.
2.President Trump Retweets Videos by Far Right British Group.
In November of 2017, President Trump touched off furor and stoked Islamophobia by sharing videos from a fringe British ultranationalist group purportedly showing Muslims committing acts of violence. This was swiftly criticized by the British prime minister, among other world and American leaders as non- presidential, not to mention spreading misinformation, hate and bigotry. This was an unprecedented inflammatory (re)tweet even by Trump's own standards.
The videos Mr. Trump retweeted were titled: "Muslim migrant beats up Dutch boy on crutches!" and "Muslim destroys a statue of Virgin Mary" and "Islamist mob pushes a boy off roof and beats him to death"
Turns out that the assailant in one of them was not a "Muslim migrant" and the other two showed four-year-old events with no explanation.
Washington Post's headlines read, "Trump retweets inflammatory and unverified anti-Muslim videos". The article goes on to state:
The videos — whose authenticity could not be independently verified — were first shared by Jayda Fransen, the deputy leader of Britain First, which bills itself as a political party but has been widely condemned as an extremist group that targets mosques and Muslims.[2]
When British Prime Minister Theresa May, criticized the presidential (re)tweet, in a typical Trumpian mannerism, he shot back with another tweet, this time directed against the prime minister herself!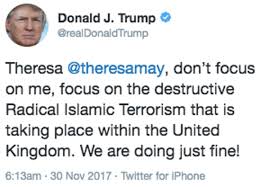 Theresa, don't focus on me, focus on the destructive Radical Islamic Terrorism that is taking place within the United Kingdom. We are doing just fine!
Really??
3. Travel Ban 3.0
President Trump has pushed hard to fulfill many of his election campaign promises. I give him credit for sticking to his words, except that many of his election campaign promises reflect his hateful and prejudiced views, and Islamophobia. After failing in courts with travel ban 1.0 and 2.0 earlier this year, the supreme court in December allowed the travel ban 3.0 to go into effect.
This means that the Trump administration can fully enforce its new restrictions on travel from eight nations, six of them predominantly Muslim. Not going into the details but it essentially means that most citizens of Iran, Libya, Syria, Yemen, Somalia, Chad, Venezuela and North Korea will be barred from entering the United States. As has been pointed out numerous times before, many of these countries were never linked to 9/11 or any other acts of terrorism in the USA.
4. President Trump announces recognition of Jerusalem as Israel's capital.
Politics aside, as an interfaith worker, I know this announcement has pushed the prospects of peace in the Middle East back and made the Muslims-Jewish interfaith work that much more challenging. But I know firsthand that many interfaith Muslim and Jewish groups in the USA have renewed their commitment to work even harder to bring peace and harmony. For further reading on this subject, you may refer to the post I published earlier this month.
5. President Trump's false claims of Muslims in New Jersey celebrating the fall of Twin Towers.
President Trump accused New Jersey Muslims of celebrating the terror attack on 9/11. I know this did not happen in 2017 but it still did got a lot of attention in 2017, and it still sticks out in my mind as evidence of his his careless and baseless accusations, perhaps reflecting his mindset.
The 2001 terrorist attacks were a frequent subject of his presidential campaign. In November 2015, he claimed, of course without evidence, that "thousands and thousands of Muslims in New Jersey" had celebrated the news of the attacks and the fall of the twin towers.
I watched when the World Trade Center came tumbling down. And I watched in Jersey City, New Jersey, where thousands and thousands of people were cheering as that building was coming down.
"There were people that were cheering on the other side of New Jersey, where you have large Arab populations. They were cheering as the World Trade Center came down," he had said on ABC's "This Week."
To my knowledge, he has never apologized or retracted his statements, even though they have been proven to be not true. I do not expect him to.
However when Calling New York's WWOR-TV on the day of the attack, he seemed to be boasting his own tower to be the tallest building after the fall of the twin towers.
40 Wall Street actually was the second-tallest building in downtown Manhattan, and it was actually, before the World Trade Center, was the tallest — and then, when they built the World Trade Center, it became known as the second-tallest," he said. "And now it's the tallest.[3]
In all fairness, it must be pointed out that this was a long interview (about 8 minutes long), and he covered many areas including his accounts of watching it live from his office and expressed his concerns over the horrific event, including his pledge to "Never Forget" this event.
My 2018 Resolution
Despite all the negativities, and the rise of Islamophobia and bigotry, I am very optimistic for 2018. Call me naive. I do think that all the negative stuff has actually brought many communities together and has resulted in alliances that were once not possible.
I pledge to continue to work hard, perhaps harder, with a renewed focus on countering misinformation, hate and bigotry, and to work with people of all faith to bring peace and harmony in our communities. I can certainly not change the world. All I can do is what's under my control, to help promote understanding among our communities.
In the new year (and beyond), may the peace and love prevail over hate and bigotry. Amen.
[1] https://www.splcenter.org/news/2017/11/13/hate-crimes-rise-second-straight-year-anti-muslim-violence-soars-amid-president-trumps
[2] https://www.washingtonpost.com/news/post-politics/wp/2017/11/29/trump-retweets-inflammatory-and-unverified-anti-muslim-videos/?utm_term=.2cdc7548519d
[3] https://twitter.com/ScottyLiterati/status/774895778817073152?ref_src=twsrc%5Etfw&ref_url=https%3A%2F%2Fwww.huffingtonpost.com%2Fentry%2Fdonald-trump-911-anniversary_us_59b67625e4b0354e4413182b