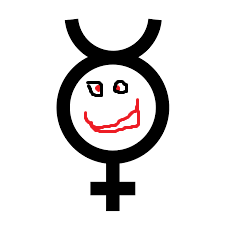 Want to get real, practical use out of astrology? Here's your chance… welcome to Mercury Retrograde!
Every planet rules different features of your life. Mercury is the planet that covers things like communication and logic and short trips. When a planet is retrograde, it appears from our perspective on Earth to be travelling backwards in its orbit, and that planet's functions can go wobbly. Mercury Retrograde periods can see an increase in missed calls, wrong numbers, spelling errors, bad driving directions, and a host of things all related to Mercury.
Mercury turns retrograde on Monday, and stays that way until January 8th. On the one hand, it's a good idea to be particularly cautious during that time with your communications. On the other hand, people who have been heavily into astrology for a while will blame damned near anything that goes wrong during a Mercury Retrograde period.
Sure, technically that's a huge disservice to the complexity of astrology. But you know what? Screw it. Here are some handy tips to help you use Mercury Retrograde for one of its greatest qualities: as an excuse for everything and anything that goes wrong.
DON'T SAY:
"I know I should have been more honest with you, but I've been seeing someone else. I know, I know — I'm a terrible person and I don't deserve you."
DO SAY:
"Wow, this is such a typical Mercury Retrograde moment! Those nude pictures on my cell phone are because I'm studying Anatomy at Night School to get a better job!"
DON'T SAY: "I'm really sorry, Officer. I know I shouldn't have been speeding through a School Zone."
DO SAY: "Holy Mercury Retrograde, Officer! Your radar equipment is clearly malfunctioning, and these charges will never stand. Now if you'll excuse me, I'm late to meet my drug dealer."
DON'T SAY: "I shouldn't have said those things in my e-mail. I love this job and you're a great boss, but I was drinking that night. Does the company insurance cover rehab?"
DO SAY: "Classic Mercury Retrograde, boss! Sorry for the mix up. That e-mail calling you a neurotic, slave-driving tyrant with terrible breath was actually supposed to go to my Mom."
YOUR MERCURY RETROGRADE GURU MEDITATION
Do you really need to use the right words to convey basic meaning?