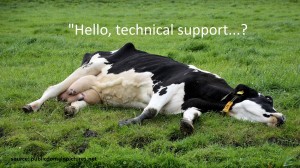 THE TAURUS MANUAL: SECTION FIVE — COMMON TAURUS ISSUES
MY TAURUS IS MOVING VERY SLOWLY. HOW CAN I ADJUST HIS OR HER SPEED SETTINGS?
Yes. Speed adjustment is often an issue with Taurus. Unfortunately, many people assume that this is because of some sort of inherent stubbornness, or possibly that the Taurus in question is somehow too pleasure-oriented to rush through anything. The truth is that Taurean slowness can be because of either or both of these reasons. Unfortunately, they rarely fall for "Hurry up! The restaurant closes in ten minutes!" more than a few times before catching on. What can be adjusted, however, is your expectations. Bring something to read while you wait.
Never get behind a Taurus and push, for any reason, ever. That won't work, and can lead to the next issue…
MY TAURUS HAS BEGUN TO MAKE A SNORTING NOISE, AND THE VEINS ON HIS/HER NECK ARE BEGINNING TO STICK OUT. SHOULD I BE CONCERNED?
This is an "anger management" issue. Tauruses normally perform relatively smoothly when it comes to this, relative to other Signs. However it has been noted that when they do have a flare-up, it is often severe and possibly dangerous.
If caught in the early stages, the issue can be resolved by complimenting your Taurus on his or her taste in clothes or music. Failing this, you may want to try what has come to be known as "The Taurus Two-Step." This consists of throwing a doughnut in one direction while saying "Yum, go get it!" while simultaneously running in the opposite direction (preferably towards the nearest exit).
MY TAURUS HASN'T SHOWN ANY INTEREST IN BAKED GOODS, FRIED FOODS, SEX OR SHOPPING IN A LONG TIME. WHAT IS THE PROBLEM?
Please check your Taurus for a pulse. In this case, none will likely be detected. If so, move on to "Section Six: Disposing Of Your Taurus" for suggestions on tasteful but overpriced funeral arrangements.