After doing my dark moon cleaning of the altar, I changed my altar just a little in preparation for Navratri. For the next 8 days I'll observe this beautiful Hindu festival of Shakti principle. (I wrote about Navratri last year and recommend reading it for a little background.)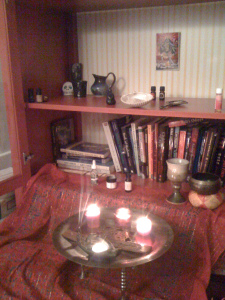 Navratri focuses on the manifestations of Durga, the Mahadevi, or in my Feri eyes, the Star Goddess, the Great Source from whom we all emerge and to whom we all return. For the next three days I'm focusing on the dark, purifying aspects, as seen in Kali. The picture of Kali, seen hung on the back of the case, is permanently affixed, as she is a deity I honor daily. While asking for boons and blessings is a common part of festivals and holidays, I like that this one kicks off with a focus on purification. It is not purification from our inherent evilness, but purification from the confusion of illusion (often self-inflicted), from obstacles to truth, and from the malaise of inaction. I've already made kala this morning and will make kala daily as part of my purification practice.
O, Kali Ma!
Slay the fears that limit my spirit.
O Kali Ma!
Dance upon the grave of my iniquities.
Many Hindus choose to fast for the entire holiday. That can mean any number of things: having only one meal a day, giving up meat, eating only grains and fruit…. ask ten Hindus, get ten different answers! I am abstaining from dairy and alcohol. (I already don't eat grains, other than the occasional bit of rice.) I love dairy and alcohol. In fact, I have a 2/3 full bottle of bourbon sitting on my shelf and I'm not touching it! But I welcome this fast. It feels joyful and life-giving to me.
In the photo you can see a red scarf draped under my little table, with red candle holders. Sandalwood incense burns; the white shell holds two handfuls of rice as an offering. This morning I added a ramekin with turmeric in it. I'll change out the offerings throughout the nine days. I plan to run the Iron and Pearl Pentacles, make kala, and have two sittings a day of prayer and meditation.
Already I feel the presence of Ma Durga. Her loving presence descended just a little last night, and I was grateful. This is a very personal holiday for me. I don't have the kids involved at all. I retreat into my tiny office and sit at my altar – time just for me.
Jai Ma!
(If you observe Navratri, I'd love to hear how you involve your family, if at all.)