Greetings and salutations! Come on in, settle down, and share some tea. A Witch's Ashram opens its doors today here at Patheos Pagan.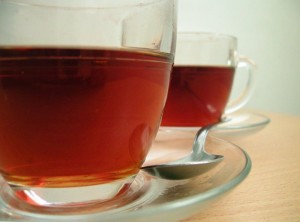 I started this blog two and half years ago while living in Wales. At the time I was debating whether or not quit the PhD program I was enrolled in. I had a 3 year old and a 5 month old. I wanted to write outside of academia and I felt I needed some structure to help me focus. I ended up quitting my program and never looked back. My family moved back to the United States, and I am now pregnant with my third child (due in May). Through the explorations I started in my first year of blogging I found practices that spoke to my spirit and produced the kinds of results I had been hoping to find.
A Witch's Ashram runs with what worked: my continuing study and practice of Anderson Feri witchcraft and tantric Hinduism. I have teachers for the former tradition and am self-taught for the latter one, so far. I consider myself dually observant. You'll find discussions of both practices here, as well as topics that relate to the wider Pagan community. I use my theological background and former experience as a Christian to explore topics and review books that tilt toward the Christian side of things. I often look at the intersection of being a mystic and Pagan and a parent.
On Mondays you might see posts in my Maxim Monday series. Star Foster inspired this project when she was writing on the Delphic Maxims. I realized I knew nothing about them and I wanted explore these classical pagan values myself. There are about 137 of them, and I think I'm only on 57. Sometimes I feel inspired by these maxims and other times I can't find much to say about them. The posts definitely reflect this!
I also hope to bring in some other voices of traditional witchcraft, via interviews and guest posts.
For those who followed me here from my own ashram, please click on the rss feed to the right if you'd like to continue following me. My Facebook page provides links to current posts, but I also often post links and other thoughts there that I think might be of interest to my readers. Occasionally there is some good discussion on those threads.
Please note that Patheos generates income via ads. I do not have any control over the advertising content; I do not necessarily support or endorse any other blog or ad on this site. The opinions in my blog are mine alone, and no one else at Patheos is responsible for my content. Reviews of books and movies are straight up honest, whether I paid for the item myself or received it free for review. For more information about the blog or myself you can click on the About pages at the top. You can see past posts by clicking through the archive or on the tags.
I'm really excited to be part of the amazing and thoughtful line up here at Patheos Pagan. Thanks for having me!