When I was living in Wales I felt the seasons shift at Imbolc. Snow drops raised their cheery heads from cold earth. The sheep in the pastures across from my house began their lambing. The light grew demonstrably stronger. Occasionally the daffodils would poke up, bright yellow promises of sunlight to come.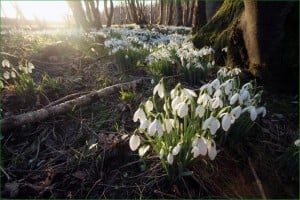 Here in the Pacific Northwest I also feel the growing light in my bones. It's still cold and wet and grey – reminding me that we are still in winter's clutch. I don't see any snow drops, but I do see the tiniest of pink tips on a bush I can't name, and I see fuzzy willow buds sprouting here and there. Spring is coming, even if I can't see it.
I really love the lore around both Bríde and St. Brighid, but I don't have a relationship with her/them. For me, Imbolc marks a shift in seasons and a lightening in my body. So while I mark the turning of the Wheel, I don't have a particular practice that observes this holiday.
However, this year there are several things going on in my life that strengthen my interest in observing Imbolc. Besides taking down the orange garlands I put up at winter Solstice, I want to set aside some time for ritual. I am six months pregnant. I've read in various places that i mbolc means 'in the belly' and that oimelc (another name for this season) means 'ewe's milk.' I've got a babe kicking in my belly and my breasts are growing full with milk to come. I want to honor this growing strength in my body.
According to my tarot reading and collage for 2014 this time period is all about Temperance for me. Temperance is the mixing together of fire and water, the two elements I associate with Bríde. It isn't that we use water to put out the fires of our passion or bring heat to boil the waters, it's that we bring the fullness of both of these 'opposites' to create something new and transforming. This season I am contemplating just what am I passionate about – where and what is my passion? How also can I plumb the depths of my spirit and emotions to bring greater compassion into my life?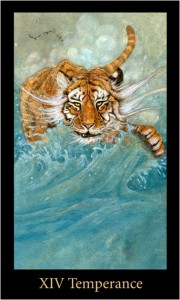 Last year I attended ritual with my teachers and fellow students. This year I will carve out some quiet time in my altar room and honor these mysteries on my own.
May your Imbolc be blessed.