Every so many months I like to talk about what we're reading in my house. We're big readers and usually we have way too many books started!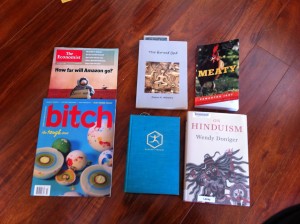 I've got this week's Economist and this quarter's Bitch. I've subscribed to these two magazines for over a decade. They keep me informed on things that matter to me, and they help me feel like I'm somewhat aware of what is going on in the wider world. Two books I've been reading for about 3 or 4 months now: Jason Mankey's The Horned God and in blue is Boris Pasternak's Russian novel, Doctor Zhivago. The Horned God is a slim, but excellent book on… well, exactly what the title says. Mankey combines personal vignettes with a round up of scholarship on various horned gods, all told in a manner that is reminiscent of his (equally excellent) workshops. I hope this book finds the editor and audience it deserves.
Doctor Zhivago is beautifully written, however I find the plot ponderous. It's a classic Russian novel: loads of characters that may or may not be important, exquisite detail of historical and emotional detail, philosophic interludes of staggering clarity and relevance, and a plot that goes on and on and on. I pick this up when I need a shot of beautiful prose.
When I need something funny and easy to read I've got Samantha Irby's 'memoir'/collected blog posts, Meaty. Her blog is hilarious. Hi-larious, I tell you. Her book is funny, but be warned: there are serious chapters about her childhood that are not funny. They are intense and capture the emotions of a lonely child struggling to care for her disabled mother all by herself. It's stressful and heartbreaking, and more than once I've wanted to run out and hug the shit out of 9, 11, 13 year old Irby. And then the next chapter has me smiling and chuckling to myself, saying, 'Preach it, sister' under my breath.
Last, but certainly not least, is On Hinduism, Wendy Doniger's most recent collection of essays (much of which is familiar territory after her Alternative History of the Hindus). You will not be surprised to hear that I quite enjoy it.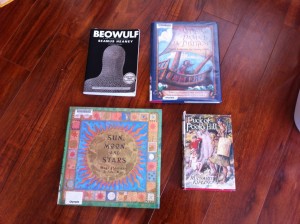 My son is bouncing all over the map. He's 6 and reading now. We're working through Arthur Lobel's Grasshopper on the Road (pictured below). Lobel's books are wonderful for new readers. We're also making our way (slooooowly) through Beowulf and Puck of Pook's Hill by Rudyard Kipling (I read these to him). Beowulf is pretty gruesome, but dang, if Seamus Heaney's translation isn't lovely to read out loud. Kipling is a delight. Two great Pagan-ish books for youth.
We are also reading Sun, Moon, and Stars, which we picked up at the library. It's got some world myth centered on the title subjects, some (mediocre) lore, and lush, gorgeous illustrations. You can't quite see it, but there is also Not One Damsel in Distress, a collection of stories of strong women from around the world. Son LOVES it.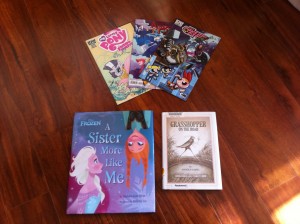 Daughter, 3, can't read, but she sits and looks at pictures and tells herself stories all day long. Both kids are into comics and share these, but on the day I took these pictures daughter was seriously all about reading these to herself. We've got My Little Pony: Friendship is Magic, Adventure Time, and Power Puff Girls (all three cartoons are big hits in our house). She's also been stealing big brother's reading books (the Grasshopper one) to 'read' to herself. And no child under the age of 10 would be complete without some sort of Frozen paraphernalia. Thankfully, A Sister More Like Me is great – encouraging people to appreciate what makes them different from others and appreciating what makes others different from them.
What are you reading?