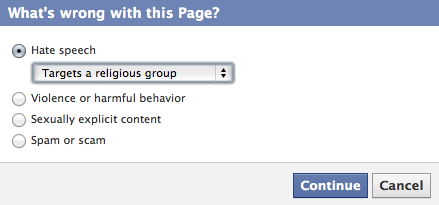 Truly, the literal worst thing about this story is how unsurprising it is – for two reasons:
KALKASKA, Mich. (AP) – A local official in northern Michigan refuses to apologize for sharing Facebook posts calling for the killing of "every last Muslim" and for nuclear weapons to be used on the world's 10-largest Muslim-majority cities.

Jeff Sieting, the village president in Kalkaska, which is about 230 miles (370 kilometers) northwest of Detroit, said Monday that he doesn't owe anyone an apology over his Facebook posts, the Record-Eagle of Traverse City reported (http://bit.ly/2uaNYKP ).
…
One post Sieting shared said Muslims are destructive and "there is simply no place for them in our world." The post also called for using nuclear weapons against the 10 largest Muslim-majority cities, as well as pilgrimage sites.

Sieting said his comments are protected by the First Amendment and that those trying to oust him from office are only doing so because they oppose President Donald Trump.
The first reason this is unsurprising is because obscene rhetoric (and violence) against Muslims is so common nowadays that we are inured to it. This predates President Trump's election.
The second reason this is unsurprising is the more important reason – it is an excellent example of how the ongoing process of hyperpartisanship has eroded our civic norms. hyper-partisanship is, to amend a phrase from Richard Dawkins, a "politically stable strategy." Consider this revealing comment from a county resident who supports Sieting:
"If you don't want to read it, get off of (his Facebook page)," she said. "From what I do know, you are a very honest, faithful, hardworking man and I thank you for that. I hope you continue and stand your ground for your beliefs. I don't believe he has to represent everybody."
(emphasis added). For starters, she is absolutely correct regarding his right to post whatever he desires to public forums (though it should be noted that the owner of that forum, in this case Facebook, has an equally inalienable right* to set limits on what type of content it permits.
The problem is her second assertion. Does an elected official represent everyone, or just the people that elected them? This question scales from local town official to President of the United States, and it is of critical importance.
Obviously, I fall on the "represent everyone" side of the line, and there are many on the opposite side of the partisan political line who are my same side as far as this question goes. But increasingly, others disagree.
The outcome of representing only your supporters is that representation itself becomes fractured. To that end, the ultimate decision rests with the electorate as a whole. A sufficient majority to re-elect Sieting may well share the opinion of the quoted supporter above – in which case, we have to admit that democracy is functioning properly.
However, if there is a sufficient majority to oust him, who are offended by his remarks, or who generally believe that representation should be inclusive of everyone and not just supporters, then they have an obligation to act on those opinions. Failure to do so, by not showing up to vote at all, ironically proves them wrong. This, too, is how democracy is supposed to function.
The bottom line is, voting is how you express your representation. Given that most voters don't bother to vote – we can hardly blame hyper-partisanship for fostering the view that representation is for supporters only, and not inclusive.
* See Popehat's infamous "Hello! You've Been Referred Here Because You're Wrong About The First Amendment."