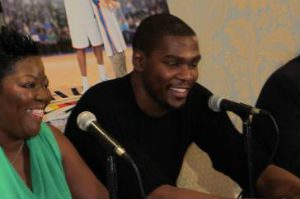 In the family drama Thunderstruck, a famous basketball player– played by real-life superstar Kevin Durant– loses all of his skills on the court after an encounter with a high school student. Brian (Taylor Gray), a student with few basketball skills to speak of,  idolizes Durant as the story begins but when the two meet, Durant's skills are mysteriously transferred to Brian while Brian's meager abilities are given to Durant.   Soon enough,  Brian's high school basketball team watches as the former bench-dweller begins making dozens of three-pointers while Durant watches as his career begins to fall apart.
In addition to Gray and Durant, the film stars Brandon T. Jackson as Durant's frustrated manager and James Belushi as Brian's easily-excitable coach. But in addition to those well-known stars, the movie features performances by Robert Belushi (James' real-life son) and a cameo by Wanda Pratt, Durant's mother.
At a recent press conference, the cast of the movie talked about working with some of their own family members and some of their own personal favorite sports films.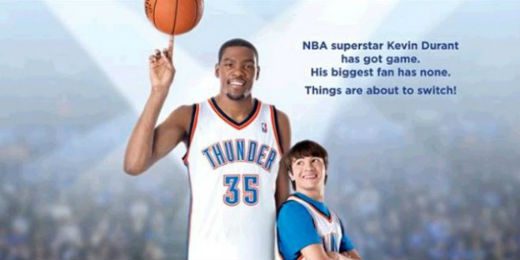 What was it like working with Kevin Durant in his first acting gig?

Jim Belushi: In the scenes themselves… It was like working with a professional that's been working for fifteen years. He just slid right into it like it was just second nature to him.
Wanda, can you talk about your experience watching your own son onscreen?

Pratt: When I saw the movie, it just was so surreal to me that this was my son in a major motion picture starring him as himself so I feel like I wanna cry now…I cried at the Olympics too [when Durant won a gold medal with the U.S. basketball team]. I've been crying all year.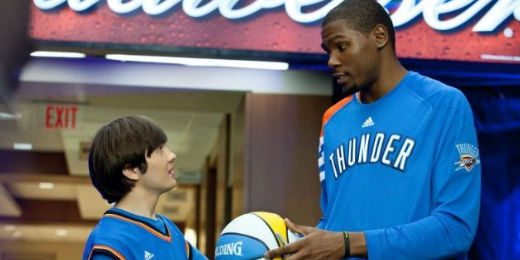 Kevin, there's a line in the movie where your character notes that 'Hard work beats talent when talent fails to work hard.' Is that a personal motto of yours?

Durant: [Yes] I've been using it [for] fifteen years. They put it in the movie. My godfather was the first one to tell me that quote and I've been using it ever since.
Jim and Robert, I know you've worked on some projects together before. What was this particular experience like ?

Jim Belushi: [kidding] Terrible.
Robert Belushi: It's great working with my father. You hope to work with great scene partners. I know that's gonna be the case every time I'm on stage with him. The most fun we have is when we're playing with each other, trying to mess each other up, improvising and [we] tried to do a little of that out here…I always enjoy it. It's nice. [joking] It's the only time we get along.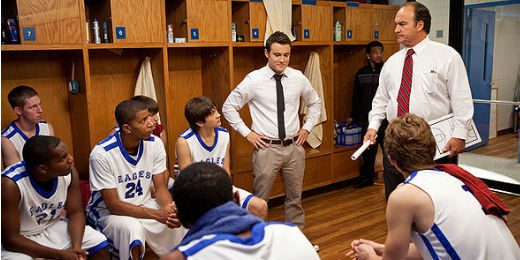 What are some of your favorite sports films?
Jim Belushi: I saw one that really blew my mind. It's called Thunderstruck. And I'd probably go back to see it again next weekend.
Robert Belushi: There's a lot of subtleties that you miss on the first viewing that you should see.
Jim Belushi: This is a two/three-timer.
Robert Belushi: Kevin Durant. Taylor. Brandon. You've gotta really watch them.
Jim Belushi: Yeah, that's the best one I've seen.
Durant: I guess I've gotta say Thunderstruck too. But other than that, I would say Hoosiers actually.
Jim Belushi: Yeah, Hoosiers was good.
Pratt: You gonna ask me that question? Thunderstruck, of course.
Jackson: Thunderstruck and Basketball Diaries with Leonardo DiCaprio. It's more of a drug movie but it's a basketball movie at first…
Gray: Yeah clearly, Thunderstruck. I've gotta go with that. I love Rudy. That's another good one.
Did growing up in D.C. lend itself to your success and where you went with your career?
Durant: I think D.C. is so cutthroat. I think my Mom would agree with that. Everybody's out for themselves most of the time and that made us stick together as a family and as a close group. I was able to work so hard and my Mom was always there to push me..
Thunderstruck is now in theaters nationwide.