With all due respect – which I understand to be a statement that allows you to say anything you want – there were a lot of wrongheaded responses to my last two posts on pornography. Most were centered along the fallacy that there exists no difference between nude art and pornography, or if there does, it is so slight a difference that it is irrelevant. There was also the general insinuation that the real, deep reason I'm even posting about this at all is because it gives me an excuse to masturbate, to which I chuckled. So that's why so many people hang out in the Sistine Chapel.
However, the one objection I take seriously is that 'yes, all of this is true, but to the man addicted to pornography, this truth can be nigh unrecognizable.' That such direct pathways from nudity to lust are carved out in the brain matter of modern man that goodness, truth and beauty are almost immediately corrupted. That maybe, once upon a time, in a land free from pornographic advertising, a culture with an appreciation for nude art would have been a chaste culture, but no longer. The answer to pornography then, is not to foster an appreciation for the beauty of the human person, and the naked form, but to avoid nudity altogether. For even if it is good, it is dangerously easy to corrupt.
This argument has the virtue of being simultaneously true and false. It is true in that the appropriate response to lusting after something is not to somehow 'artify' it. You'd do better to jump into a bramble-bush after St. Francis, or hire an old Jewish woman to slap you in the back of the head whenever your eyes begin to glaze over.
It is false in that it submits the battlefield to the pornographers. It is an acceptance of defeat: "We can't do it. We can't see the beauty in the Virgin, in the nude form, so we're leaving. Take nude art, make it as corrupted as you want – we won't look at any of it." This is obviously the wrong attitude, because we Catholics are supposed to transform the culture by way of beauty, not remove ourselves from anything that has the potential to be corrupted. (Quick Note: Everything has the potential to be corrupted.)
If we revolt in the direction of puritanism – avoiding nudity in any context at all – we're denying the beauty of God's works; his works have been conquered by our sin. For the porn-addict, this 'total avoidance' may be a good practice at first. But as a lifetime method of developing chastity? One might as well try and develop patience by studiously avoiding other people.
So the answer must lie somewhere else. I hold that for the porn-addicted/lust-struggling art-viewer it is this: To recognize the beauty in nude art with an awareness of your own propensity to lust. To, by prayer and fasting, implore God for an uncorrupted view of the human person. Of course, this begs the question: How can one gain this view? In other words: How can a porn-addict view nude art without fear?
It seems to me that if it is the display of true beauty that separates nude art from pornography, than the ability to appreciate how this beauty is being displayed by the artist, and to recognize it as glorifying the human person is essential to 'tearing out your eye' that causes you to sin; to destroying the pathways that take beauty and rot it to lust.
So let's take Botticelli's Birth of Venus, a work we are all familiar with. Instead of approaching it with fear and trembling, let's say a Hail Mary, and give it an honest appraisal. Where is the beauty that separates it from pornography? How does it glorify the human person?
To take on this task, I've been learning about all sorts of brilliant artistic techniques, and how they glorify humanity. Each one blew my mind as I found them present in the above painting. (I wanted to authentically 'find' these techniques, in order to judge whether understanding and appreciating actually does help a man to view nudity in the light of God's marvelous creation.) I'm sure I got odd looks when, having been measuring the proportions of Venus for 20 minutes in the computer lab, I found the ratio and cried out "Holy crap, that's awesome!" far too loudly.
For obvious reasons, and after you've said your prayer, start by looking at her face. It is undeniably beautiful, but why? What has the artist done? He's conformed it to the Fibonacci Sequence, and the Golden Ratio, first of all. The ratio 1.61803399 that we humans love so dearly.
We love it here:
And here:
And here:
And, wonder of wonders, we love it here: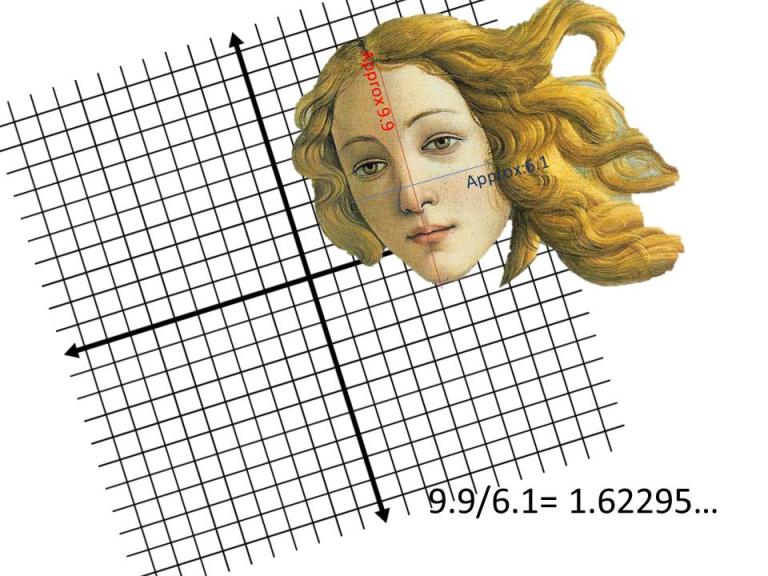 This is my ridiculously rough graph of Venus' beautiful face – I pray she doesn't smite me. The length divided by the width gets us close to that fantastic ratio that humans find so beautiful: 1.61…I imagine it would only get closer if I took the time to be more accurate. But do you see? Do you see how finding the objective beauty in the female face makes us appreciate it more deeply? It is not something we simply find good-looking. It is good-looking.
Right away we see the artist portraying a beauty, perfection of form. And the exact same is true of the body of Venus. I hold that it is a knife to the heart of lust, to realize the same beauty that strikes our hearts by way of flowers, galaxies, stained-glass windows, seashells and sunsets, is personified and condensed into the female form. The artist is not portraying nudity as being pornographic, he is portraying it as utterly beautiful. As a waterfall is beautiful, and as conch shell is too, so is woman, but infinitely more so. Again we find the Golden Ratio: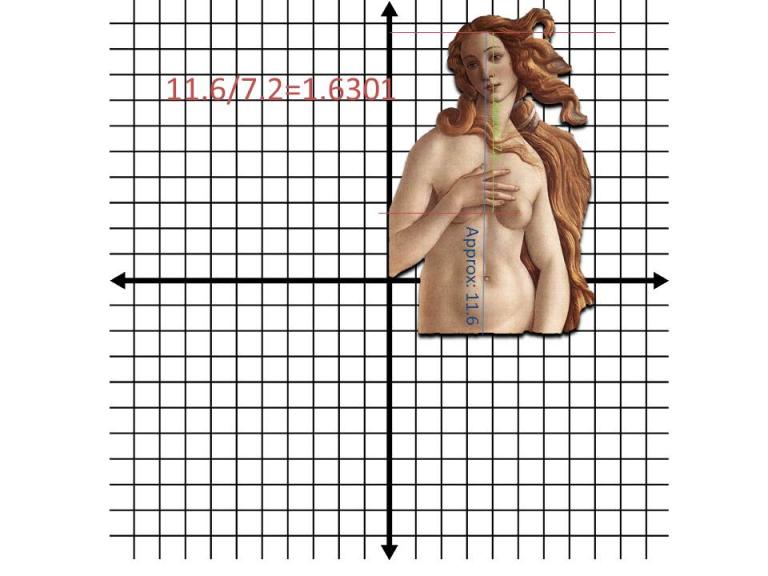 Isn't that incredible? The length of her torso, from hip to head, divided by the length from her breast and her head, gives us 1.6301. Again, were I only more accurate, I wonder how close Botticelli came to achieving the replication of what God wrought in the oak-leaf and the pineapple. Does is become more difficult to corrupt the female breast into a mindless stimulus for lust when you realize it is in perfect proportion woman in her wholeness, in a striking example of integritas, that pre-requisite of beauty that declares all parts must add to the whole? That is for you to decide.
Speaking of integritas, we mentioned before that it's not just about the woman herself being displayed with glorifying proportionality, it's about her proportion to what's going on around her. (Which is why it is entirely difficult for me to conceive of any situation in which the artistic display of the marital union would be acceptable.) One way the artist puts Venus in proportion to the entire painting, as a beauty to be honored, is by strictly following the rule of thirds and the use of the triangle.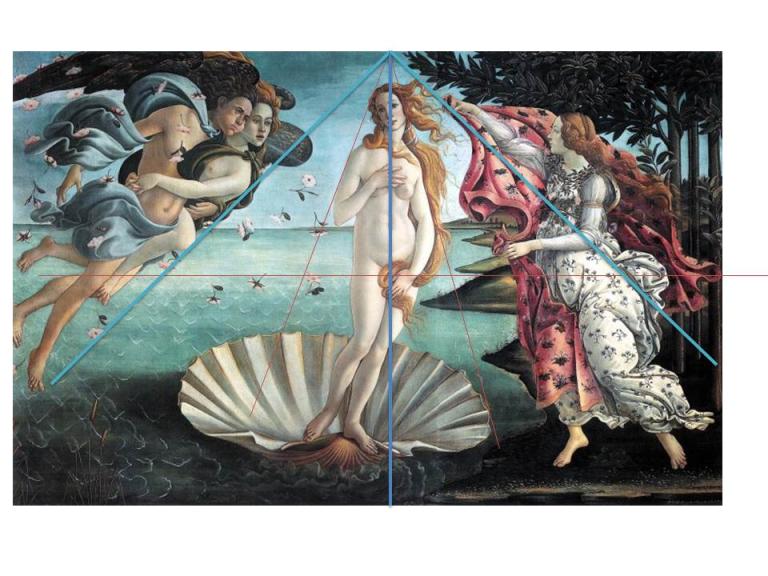 The triangle is apparent; the arms and bodies of those surrounding Venus form it. Again, how does this glorify the beauty of Venus' naked form while avoiding lust? The triangle in art is a symbol for completeness, developed as such by Christianity in light of the Triune God. Wholeness of form. Perfection. Here I found two main triangles one surrounding Venus – declaring her as the perfection of beauty – and another created by the pose of Venus herself, by the lovely angle of her arms. The latter triangle nestles within the first – not only does she incorporate beauty, she gives it.
You'll also notice that the very center of the painting is obviously directly below the womb of the nude Venus, the place of birth. Do I need point out that this is in harmony with the whole painting, The Birth of Venus?
So what's my point? This: Perhaps with an appreciation for the glory the artist gives to the nude form, the porn-addicted man may be aided in avoiding the temptation towards lust when viewing nude art. What does pornography do but degrade women? It says she is nothing more than a stimulus to a watching organism. Through the conveyance of beauty – whether in triangles, the golden ratio, color harmony, the rule of thirds, etc. – the artist is specifically glorifying women. Pornography and beautiful art cannot co-exist, because their messages are inherently different and radically opposed. (Obviously, this applies to the male form as well.)
I do not hold this to be some magic cure. For those suffering from pornography addictions, I beg that you would look into The King's Men, or New Life Habits, that you would read this, and that you would frequent the sacrament of confession, and that you would do all these first. But I also beg that we, as a culture, as a religion and as individuals would not approach the nude form with a suppressive mindset; with fear. Rather that we might see the human person as God intended us to, through the incredible skill he gave to the artist, who glorifies the naked form in his art.