The word 'pornography' means "writing about whores", from the Greek pórnē – harlots. Now it would seem to follow that best pornography in the world would have to display the best harlots. But the best harlot – by the true meaning of the word best – is a forgiven harlot, like Mary Magdalene, who makes the radical shift from the rotten to the whole. And if she is whole, she is no longer a harlot. She is a virgin. Unfortunately, there is no word for "writing about virgins", so I will make one up – virgography. Virgography is the best pornography. (With all apologies to Lady Logic.)
Blessed John Paul II – a boss in all respects – when asked for a solution to the crisis of pornography, did something fantastic: He commissioned artists to create and display more art of the Virgin Mary, especially of the Virgin breastfeeding. His answer to the problem of porn was not the lack of nudity – it was nudity. It was not to simply avoid pornography, to tiptoe around it and run whenever it reared its head (though for many of us men, this is the best response) – it was to crush "writing about harlots" by "writing about virgins." To check vice with virtue, yes, but even more than that. Pornography is to be destroyed by beauty.
To be clear: I believe that the cure for the addiction so many have to the illicit viewing naked women is in fact…naked women. This admittedly-in-need-of-a-lot-of-justification statement goes back to St. Thomas Aquinas' objective definition of beauty. (If you plan on following this blog, memorize this; my life philosophy is blossoming around it:)
St. Thomas identified the three necessary attributes for something to be considered beautiful, Integritas, Consonantia, and Claritas. If a thing lacks any one of these, it may very well be likable, but it is not beautiful.
Integritas means completion of form. Perfection. Wholeness. All the parts of a thing must serve the purpose of the whole. Consonantia means due proportion or harmony. This means harmony of all the parts, but also the harmony of the thing to its surroundings. (For instance, while dancing is a beautiful thing, liturgical dancing is a bad joke.) And, last but not least, Claritas means radiance. Is the beauty clear? Does it convey? Or is it simply a good-looking mess?
Now the problem with porn is not simply that it is a sinful, harmful thing. This is true, but what makes porn so killing is that it is the corruption of a beautiful thing. Sex is beautiful. The naked form is beautiful. The naked woman is the most beautiful creation in the entire universe. Pornography contains all of these things, and yet – like the stupid kid who, given paper and crayons, eats the crayons and throws up on the paper – pornography manages to be ugly. Why?
Well first of all, it lacks Integritas. Obviously, I can't get too graphic in my explanation, but let me put it this way: A pair of breasts is not a woman. Most of pornography is a focus on the parts of the body, rarely ever the whole. And thus there is no completeness of form, only the reduction of the porn-viewer to an organism. No longer does he see a woman, he sees a stimuli, and he responds accordingly.
It lacks Consonantia. It reaaaallly lacks Consonantia. Not only does pornographic sex refuse sex the proportion it is due – necessarily neglecting to show such trivialities as emotion, commitment, sanctity, joy, the fact of procreation, etc. – it is also out of proportion in the way it is displayed. Tangoing, I am told, takes two. Sex has been reshaped to mean a lot of things in our dear modern age, but the one thing it remains is relational. To get psyched about not being involved in an event that by its nature requires a lot of involvement is one of the most incongruous situations of our time. To settle down in front of your computer screen to not be involved in the sexual act is sadly out of proportion with what sex is meant to be. Sex is the least vicarious act in a human being's life. Porn makes it the most.
And of course, pornography lacks Claritas. Sex, like it or not, is a message. It is a message of commitment. Even if it is but a one-night-stand with a woman you'll never see or care to see again, your body doesn't know that. Your body is busy producing oxytocin, chemically bonding you to the individual you're with, 'remembering' his or her smell, taste, and feel in little cells on your spine. This message is destroyed by pornography, and thus men and women become so sadly addicted to the pixelated representations of men and women long dead by S.T.D's.
But everyone knows this. Or rather, no one believes that pornography is beautiful, least of all the people involved in the actual industry. In fact, they usually glorify its very ugliness. This glorification crosses over to our general culture. It seems to be why today's "sexy" look usually amounts to a woman snarling at you, or, as Billy Collins put it in his marvelous poem, Victoria's Secret:
…Nor does the one directly beneath her/ look particularly happy to see me. / She is arching one eyebrow slightly / as if to say, so what if I am wearing nothing / but this stretch panne velvet bodysuit / with a low sweetheart neckline featuring / molded cups and adjustable straps. / Do you have a problem with that?!…
The real question is: How is the masterpiece of the naked form beautiful? What is the difference between the Birth of Venus, and soft-core porn of a naked woman on a shell? Why did Blessed John Paul II advocate nude art as a knife to the heart of pornography? I'll tell you. Real, authentic portrayals of the naked form fulfill the prerequisites for beauty, and beauty points to God, not to sin.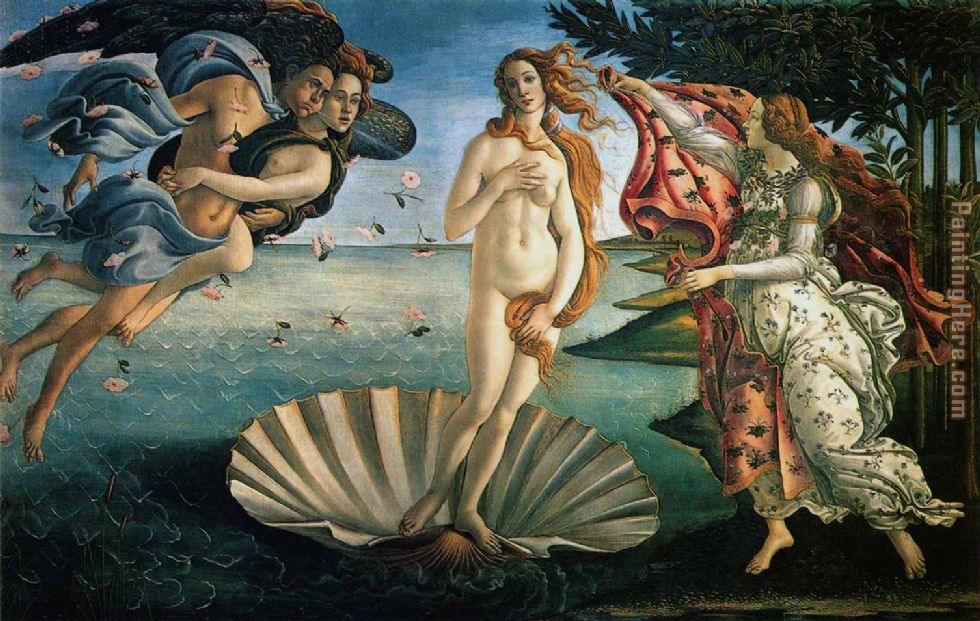 A beautiful piece of art glorifies the human body by its attention to detail; in its commitment to Integritas. I'm no painter, but this much seems apparent: The artist uses every detail to add the overall focus of the painting. Every piece – every minutia of shading, triangular formation, use of the golden ratio, the piece's location, background, foreground, coloring, situation, form, the stance of the model, the symbols, the motifs, even the frame – everything is used by the artist to convey a truth, to convey a message. The parts add to the whole. Compare such a method to that of pornography, where the parts are used based on what stimulus an organism best responds to. It may be well lit, but it is lit to obscure, not to reveal. It may be airbrushed and photoshopped, but these are lies, not efforts to reveal the truth. Pornography is the artist who sells out and draws whatever people tell him to, hoping to sell a million copies to Target.
But what of Consantania? Harmony is apparent within the painting itself – in color, form etc. – but what of the painting's harmony to the world? Surely the masterly artwork of the naked woman puts us in the same position that pornography does? After all, is relationship not still required? Surely an image of a naked woman is out of the proportion in which she is supposed to exist, simply because it is an image?
Let me explain. While it takes two to tango, as we've previously established, it needn't take two to admire. That is the difference. Pornography sets up an explicitly relational situation – sex, seduction – while making relationship entirely impossible. It is a contradiction; there is utterly no harmony between having and not-having. The portrayal of the naked form in beautiful art, however, does not aim to seduce. The artist does not draw to evoke reactions of lust – for he gives up his role as an artist if he does – he draws to convey beauty. And the admiration of beauty is something you can do on your own. Think on this. It is downright creepy – and certainly not beautiful – for a man to spy on a woman and lust after her. Is it the same for a man who sees a woman – though she does not see him – and thinks she might be the most breathtakingly beautiful being in existence? Both situations lack a relationship; the first represents porn, the other represents art.
And good old Claritas, rounding things up for us. The portrayal of the naked form in art need very little defense in this manner. Let me put it to you in the form of a question: Who among you have seen pornography and been ennobled, walking away with some truth, some knowledge of God or self? Who has received a message from pornography? (And here I don't mean from the fact of pornography, which delivers all sorts of messages; boredom, lust, apathy, etc.) But the truly beautiful portrayal of the naked form is always making its mark on man's open soul.
So why does the beautiful kill pornography? Because the beauty speaks the truth about the naked form. The body is beautiful, incredibly designed. It inspires poetry in man. It is functional – breasts are for nursing babies as much as they are aesthetically gorgeous. It is awesome. The naked woman is made in God's image, and thus the accurate portrayal of her is always an experience of God. After all, since beauty comes from the Creator, anything beautiful speaks his name. This is not to say that a porn-addict could not look at these paintings and pervert them to the point of lust. He could, but it would take work. It would take a denial of the truth, an internal corruption of external beauty to achieve. And why would anyone seek to pervert beauty into ugliness when ugliness is so readily available? If he is going to pervert external beauty, that is not the fault of the artist, nor of the displayer of beauty.
But what may happen is this. A porn-addict may see an image of the nursing Virgin, of Venus on the foam, and try to internally corrupt it to bring him lustful pleasure. But since he must try, he may very well fail. In fact, I maintain that it is extremely likely that he will fail. And then what? He cannot watch porn without the realization that the human body is something that cannot always be easily objectified. He sees something good and true and beautiful in the naked form, a goodness that prevents him from lust. The whole reality of pornography is called into question, because something – even if he has no idea what it is – is missing. The whole idea behind porn that "this is so awesome, fulfilling, daring!" is exposed, and the words of our late Pope may arise unbidden in the addict's consciousness, that the problem with pornography is not that it shows too much of the person, but that it shows far too little. The lie of pornography is exposed, and by a naked woman.