So when Pilate saw that he was gaining nothing, but rather that a riot was beginning, he took water and washed his hands before the crowd, saying, "I am innocent of this man's blood; see to it yourselves."  And all the people answered, "His blood be on us and on our children!"  Then he released for them Barab'bas, and having scourged Jesus, delivered him to be crucified. (Matthew 27:24)
The martyrdom of the modern Christian is humiliation. It was rather mean-spirited of Blessed John Paul II to point that out, considering that our natural response to the threat of humiliation is "I'd rather die," or that fiction-writing cliché — "I wish the ground would swallow me whole."
Death is final — humiliation is drawn out like a cancer. We'd take the lions before the libel, calamity before calumny, for while we may keep our sense of dignity and worth in death, humiliation strips us naked. Let me not be put to shame, O LORD, for I call upon You…
Catholics have a terrible habit of imagining ourselves dying stoically for love of Christ, linking arms with Kolbe, Agatha and all the rest. We rarely imagine having our reputation destroyed, our fellow Christians desert us, and our faces made synonymous with feces — and then not dying. Truly, not dying may be the more difficult task.
So it is with Christ. It was not enough that he should die for us — he was utterly humiliated for our sake. He was [quite literally] the most detestable human being to ever crawl the face of the Earth. He became humanity's scapegoat, containing within his frame all the guilt, shame and sadness we whores deserve but barely feel.
If we think that when Christ called out to his Father in the garden to "Take this cup away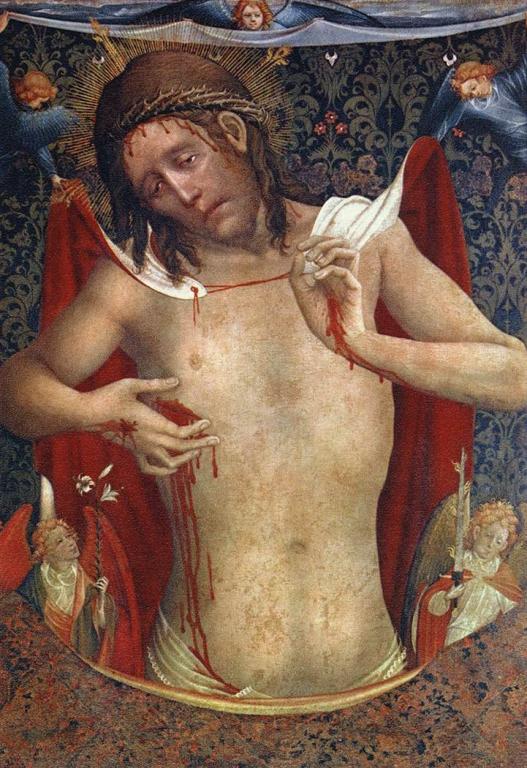 from me," he was referring to the mere physical pain of the cross, then we make our Christ a coward. No, the fear that shook the God of the Universe was of being utterly, entirely forsaken. At the risk of repetition, Jesus Christ took upon himself the total sum of all humiliation we should be wracked with for our sins. He became for us humiliation itself.
There is in almost all Christian depictions of the Passion of Our Lord one false addition. A loincloth. In reality, it is extremely unlikely that Christ was allowed to wear anything during a Roman scourging, and certainly not during a Crucifixion. We are not comfortable that He be entirely exposed, entirely vulnerable. It seems we can bear his hideous death, but it is too much that he be naked while he endures it. It is the humiliation, not just the agony, that makes us squirm.
And thus we arrive at the Scourging at the Pillar. Christ was naked under the whips, and oh, how we gain from such humiliation! We are the pillar, and our Lover Christ stretches the gift of his body around us, protecting us from the lash of sin. He absorbs the sting of humiliation on his back, the pain that we by all rights should feel, that we might be able to look at God Who is Goodness and not die from shame. He wraps himself around the Pillar — and after all, what is a Pillar? "And this stone, which I have set for a pillar, shall be God's house: and of all that thou shalt give me I will surely give the tenth unto thee." (Gen 28:22) It is God's house. It is the Church. What a bridegroom have we!