I'll start with a disclaimer: I can't stop thinking about this book.
For a long time, Mirabai Starr has been one of the greatest influences on my life; I included her on my list of Wisdom Teachers and two of her books (Wild Mercy and her translation of Teresa of Ávila's The Interior Castle) on my list of books that have shaped my spirituality. She is a deep well of wisdom for those of us seeking to embody a more rooted spirituality.
And so, in this translation of Julian of Norwich's The Showings, Mirabai amplifies Julian's genius and adds to it with her own.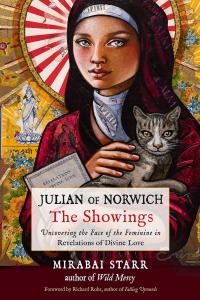 In the Midst of a Pandemic
Something I never knew: Julian's entire life was lived within the greater context of a pandemic – the Black Death. And because of this, she is even more relatable than when I first encountered her writings years ago. It's no surprise that both Mirabai Starr and Matthew Fox have released books on her in the past two years.
Living within a pre-science pandemic came with the absolutely terrifying reality of not fully understanding what was happening: why people were getting sick, how to treat their sickness, or how to avoid it. In Julian's lifetime, it's very possible that she saw her entire family die and most of the people around her; all of this without a firm grasp on why.
Yet even with this as the backdrop, Julian was firmly in love with a creation-centered spirituality. As folks all around her understandably turned on creation as a source of evil and death (Thomas Berry once said that the Black Death ended creation spirituality in the Western Church), Julian held true to her sense of love in the world.
Mirabai writes, 
"Most of all, Julian of Norwich promises that, in spite of appearances to the contrary, all is well. Not just that creation was beautifully made to begin with, and that it will all work out in the end, but that everything is all right at every moment, if we could only look through the eyes of love."
One of the most powerful phrases I've ever heard in the world, one that shaped my spirituality the moment I heard it, was see the world with soft eyes. Julian saw the world with soft eyes; in other words, through the eyes of love.
A Wisdom Teacher and a Love-Mystic
Julian was a theological genius in a truly embodied way. Her beliefs about the Divine were rooted in her experiences, not simply in doctrine or dogma. As she witnessed creation and its movements, gave spiritual direction to the people of Norwich, and sat in her own silence, which included several visions or "showings," she came to know God as "The Mother." (Something I'm sure terrified the patriarchal church leaders.)
"This beautiful word 'mother' is so sweet and kind in itself that it cannot be attributed to anyone but God." – Julian of Norwich
Rather than a Zeus-like figure in the sky throwing thunderbolts, Julian had a different experience of the Divine. Mirabai shares with us that Julian believed "God's love has nothing to do with rules and retribution and everything to do with mercy and compassion."
She was a love-mystic, a wisdom teacher for all those throughout the ages seeking to experience the Divine in the mess and the muck of life.
Mirabai and Julian offer us wisdom from across the generations and geographies. In this small offering, with its foreward by my Living School teacher Richard Rohr, Mirabai once again brings comfort and loving grace in a way that emboldens us to live fully into the world and into the present moment.
You can purchase Julian of Norwich: The Showings: Uncovering the Face of the Feminine in Revelations of Divine Love here! (If you enjoy this recommendation and make a purchase, I'll get a small commission for sharing.)