Last week, I posted the first half of a conversation with Jonathon Stalls. Jonathon is an artist, social entrepreneur, and advocate for social, economic, racial, and LGBTQ+ justice. He has founded two incredible organizations, Intrinsic Paths and Walk2Connect, and has just recently finished a new book, WALK: Slow Down, Wake Up, and Connect at 1-3 Miles Per Hour.
Here is part two of our conversation!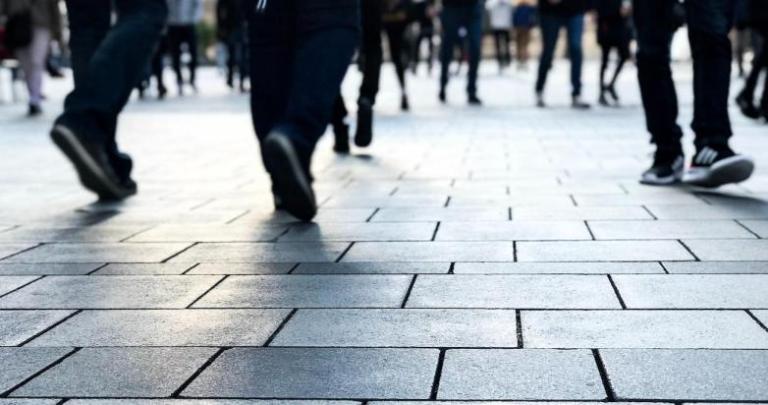 Andy: One of the things I've been most drawn to – and deeply challenged by – since we first met is your concept of pedestrian dignity. Ever since I heard you first say it, I've found myself noticing when our physical surroundings are built in ways that make movement more difficult. Why do you think pedestrian dignity is so important, from a social lens, but also from a spiritual lens?
Jonathon: I love that this resonates with you, Andy! Moving the way we are made to (by foot or on a wheelchair) brings us into MANY dimensions of wisdom. Wisdom from and with the natural world. Wisdom from within. Wisdom from one another. Wisdom flowing between it all. For me, ever since spending 242 days walking across the U.S. in 2010, my body, heart, mind and spirit became closely tied to the many gifts and benefits of walking (or rolling) and to the devastation of what has been done in the name of car-first, high-speed, consumer-first environments all across the U.S. 
On my long walk, I would witness, move with, rest with, and personally experience one street, intersection, bus stop, and public space after another that literally disregarded the health, safety, access and dignity of those who move through the world on foot or on a wheelchair. It was loud, blatant and hostile. It was everywhere. 
To be clear, I benefited greatly from all the wonderful families who stopped in their cars to offer meals, to connect, to drop off their kids, and to invite me to their ranches or homes. I had large lasagna trays get thrown out the window from quickly moving fire trucks. The nuance and complexity of it all never escapes me. And, with all the gifts and adventures of the automobile, I was still, everyday, devastated by how much we have centered and glorified it. 
I am never one to individually "car shame"; but I became, rather quickly, an unapologetic advocate around challenging our systems and practices that (A) fail all of those in our midst who have no choice but to move by foot, on a wheelchair or by bus and (B) block so many of us from more naturally and safely moving with self, others and the Earth the way we're made to.
For years after my long walk, I dove deeper and deeper into the lens of "Pedestrian Dignity" from a creative, artistic framework. I kept listening to the stories of others. I kept trusting my own intuitive aches as I experienced everyday streets from a pedestrian lens. I kept watching oceans of families and individuals go from, as author Rebecca Solnit says so beautifully in her book, Wanderlust, "one interior to another" in cars for every single transportation trip. 
All the separation. All the hurry. All the bypassing. All the power. All the oil. All the money. 
It all felt, and it still feels, awful to me. As an artist, I just felt compelled to create around it. So, for years, I have been writing, drawing, organizing, advocating, training, sharing stories, and hosting walks/rolls with decision-makers around increasing empathy and connection to something that feels so deeply destructive to our social, mental, emotional, physical, environment, and spiritual realities. 
I just keep trying. In recent months, I have been wildly surprised (on TikTok of all things!) at how much passion and eagerness there is for more "Pedestrian Dignity" from our younger generations. It gives me life. It is messy, imperfect work, but I trust what rumbles underneath and around it so, so much. 
(Andy: Here is a poem Jonathon wrote on this titled, "Empire Lines: A Walk on Colorado Blvd".)
Andy: In the midst of all this – the pains of the world, the dehumanizing, the disregarding of people's dignity, as you said – who has been a spiritual mentor for you, inside a spiritual tradition or outside of it?
Jonathon: I will say, more than anything, it has been the trees. I mean it. The way they sway, twist, dance, and beckon in all the seasons. The countless naps I have taken under their canopies. I lean on them. I am refreshed by them. I am breathing because of them. As a queer/gay artist, I am especially inspired by how wild, colorful and nonlinear their branches are. They radiate with an endless permission to be free, open, colorful, expressive and emergent. 
Thich Nhat Hanh and Rev. Dr. Howard Thurman are some of my utmost favorite teachers. Their words and invitations around "…the Earth will be safe when we feel safe in ourselves" (Hanh) and "…if you cannot hear the sound of the genuine in you, then you will all of your life spend your days on the end of strings that somebody else pulls" (Thurman). 
These words literally and compassionately accompany my movement each and every day. Of course there are so many amazing humans in my life who have nurtured my journey and I am forever grateful to be seen, mirrored, and nourished by them.
More on Jonathon's new book: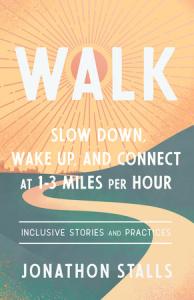 In 2010, Jonathon Stalls and his blue-heeler husky mix began their 242-day walk across the United States, depending upon each other and the kindness of strangers along the way. In this collection of essays, Stalls explores walking as waking up: how a cross-country journey through the family farms of West Virginia, the deep freedom of Nevada's High desert, and everywhere in between unlocked connections to his deepest aches and dreams–and opened new avenues for renewal, connection, and change.
While most of us won't walk or roll across the country, the deep wisdom and insights that Stalls receives from the people, land, and animals he meets on his pilgrimage have profound impacts for each of us. He shares how walking deepened his relationship to himself as a gay man, offering deep and clarifying emotional medicine. He confronts the systemic racism, classism, and ableism that shape and reshape the communities he walks through. And he invites readers to become awakened activists, to begin healing our culture's profound separation from the natural world.
WALK is for those who crave to feel and embody, not just know and study, their way through complex themes that live in each chapter: vulnerability, human dignity, presence, mystery, and resistance. With dedicated practices–like connecting to Earth stewardship, moving into vulnerability, and walking and rolling with intention–Stalls' WALK is an urgent and glorious call to slow down, look around, and engage with the world in front of us. It awakens us to what we miss when we're driving by, flying over, and rushing past what surrounds us. It's an invitation to move, to connect, to participate deeply in the world–and to dissolve the barriers that disconnect us from each other and the living Earth.
Preorder through North Atlantic Books