We crossed into the town, exhaustion in each of our steps. This stretch of the Camino had brought us through 16 miles of industrial areas and highway onramps, following nothing but spray painted arrows and the occasional image of a scallop marking the direction of our destination (as is custom along the Camino de Santiago.)
Coming to a stop at the first intersection, we hopefully glanced left and right.
No arrows in sight. No scallops pointing the way.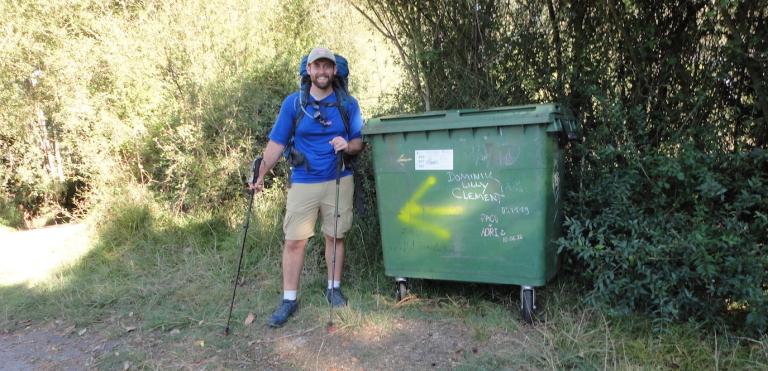 But we knew we were close. Around one of these corners would be a hostel, known as an albergue, a place for walkers to shower and settle in for the night.
So we began to wander.
Up one street and down the next, each albergue-less corner bringing disappointment as we slowed down even more under the weight of our packs.
And then a sharp whistle came from in front of me.
A small, older man stood in front of me, hunched over by time and with a delightful twinkle in his eye. His whistle-inducing fingers dropped from his mouth into a pointing motion, aiming directly at a building that said – miraculously – "Albergue de Peregrinos."
My hands involuntarily came together to share a sign of gratitude as a smile overtook my face. This man, entirely unknown to me and never to be seen again, had given such a kindness in his willingness to pause his day-to-day just long enough to help two exhausted travelers.
It might seem small, but it was everything.
During our walk in Spain, my dad and I had multiple encounters like this when people would offer help at just the right time. Traveling with no smartphones, no maps, a rough and rudimentary handle on the language, and a general sense of being out-of-our-element, we came to refer to each of them as angels: normal, everyday folks, who went out of their way to share their presence and kindness with us.
As I unpack my experience over the past few weeks, I'm overwhelmed by this sense of gratitude, forged in the fires of the unfamiliar and unknown. Gratitude for these kind souls in stressful moments, for the hospitality of servers and hostel hosts, for the pharmacists, the ER doctors (more on that later, maybe), and for my dad for doing the dang thing with me.