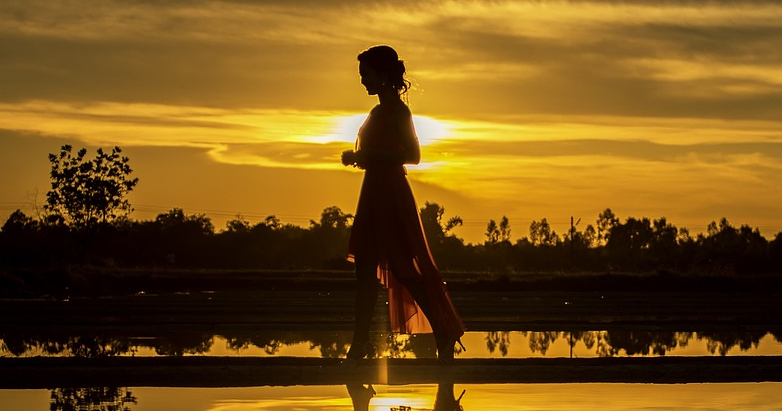 I was discussing consecrated virginity to my sister one morning when she suddenly asked me these questions:
"Why do you want to go through the process of being a consecrated single? Would you not go to heaven if you didn't do that?"
I was surprised by the simplicity and the depth of those questions. Indeed, I may have acted as though my salvation depended on having a vocation! It's as though single people are not considered good enough for heaven.
On Having a Vocation
Perhaps I have been too sensitive about having a vocation since I have been single for so long. As of the moment, I haven't felt called to either the religious or the married life.
But then the problem suddenly came to me when I discovered about consecrated virginity. It seems that the Church only recognizes one's vocation as a single person after committing to be a "consecrated virgin". Private vows to remain single won't even do.
And so I wondered about my life in case I won't become a consecrated virgin. Does it mean I no longer have a vocation? What does it mean to not have one?
Questions Often Asked Single People
It isn't easy whenever people ask you questions about being single.
"Why aren't you married yet?"
"Don't you want to become a nun?"
Out of the two questions above, the second one is probably more hurtful. I'm not certain why. But it somehow comes with the feeling that I am being judged for not taking the next step from where I am.
I feel insignificant and lost. It's as though I didn't have a God-given mission in this life. I also felt as though the Church sees single people like me as those who are afraid of commitment. My life may be seen as something lived only for the self and not for others and for God.
Not Every Single Person Can Move On From Being Single
People should realize that no matter how single people may want to, not everyone can move on from being single.
There are those who have been the pillar of their families or organizations. There are those whose circumstances in life prevented them from doing so.
Other questions kept on popping inside my head.
"What about single lay men? If only women can become 'consecrated virgins', what would become of them? Could they also have a vocation?"
"And what about people whose health or mental conditions would not allow them to marry or to enter religious life?"
I can't ever believe that God has no plan for single people like me. That we weren't "called" by Him also.
The Value of Single People
Not every person may get married. Not every man or woman can take religious vows. But that doesn't mean that single people can't live holy lives devoted to loving God and other people.
Many single people are taking care of their families. Some are taking care of sick loved ones. Others are giving financial support to their married relatives.
Single people are also often available to help friends in need. They can lend their time and effort to those who need assistance in life.
"We must also remember the great number of single persons who, because of the particular circumstances in which they have to live — often not of their choosing — are especially close to Jesus' heart…Some live their situation in the spirit of the Beatitudes, serving God and neighbor in exemplary fashion.'" (Catechism of the Catholic Church 1658)
"And you, women living alone, realize what you can accomplish through your dedicated vocation. Society is appealing to you on all sides. Not even families can live without the help of those who have no families."
(Address of Pope Paul VI to Women, 8 December 1965)
The Path to Heaven
Single people should not lose sight of God's love for them. Even in the absence of any certainty as to their particular calling, they should remember their God-given dignity and value.
Here are some of the things single people can do to strengthen their hope in God's plan for their lives:
1. Surround yourself with supportive family and friends.
Your connection and support with people who understand you and who believe in your worth will be a firm anchor in times when you doubt your purpose in life.
2. Cultivate your gift.
God has given you so many talents. Nurture them and be grateful for all the blessings God has given you.
3. Search for people who need your help.
Even if you may not have a family or a religious community to attend to, there will always be people around you who will need your help. You may be the only one who can reach them. Be a channel of God's grace and love wherever you may be.
4. Pray
God is the One who will always be there for you. He has made you in love and He has a good plan for your life. Trust Him and always spend time in the safety and warmth of His presence.
Final Words
My sister's questions helped me realize how God still loves me despite all this uncertainty about my vocation.
Indeed, even if I don't find my vocation on earth, I can still make it to heaven! And isn't that the most important thing after all?
I may be deprived of honor here on earth. I may feel lost and broken. I may feel like I don't belong to all those people who have found their vocation.
But God has still called me to be His child. I am a baptized Christian, and God has also called me to live a life of holiness and love. Yes, my vocation is love! With or without a vocation, I can fully possess the happiness of heaven.
"Love is the fundamental and innate vocation of every human being" — St John Paul II (Familiaris Consortio, 11)
"Do not fear, for I have redeemed you; I have called you by name, you are mine." — Isaiah 43:1 (NRSVCE)
Image by Sasin Tipchai from Pixabay
---
Jocelyn Soriano is the author of To Love an Invisible God, Defending My Catholic Faith and Mend My Broken Heart.
She writes about the single life and her Catholic faith at Single Catholic Writer. She is currently single and happy and she would like everyone to know how happy we can be by drawing close to the love of God!