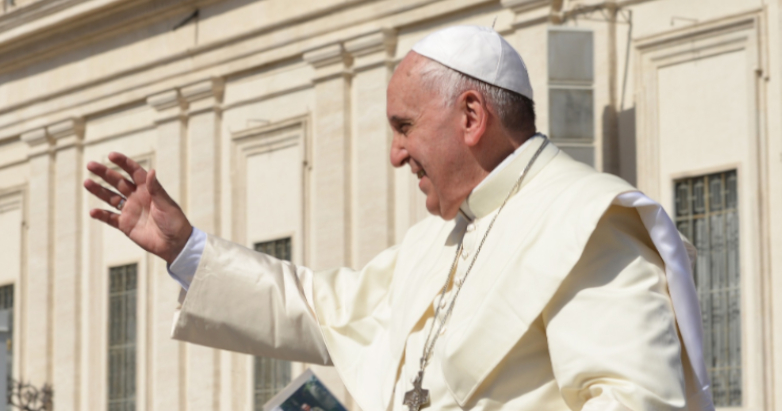 "…the mercy of God is not an abstract idea, but a concrete reality with which he reveals his love as of that of a father or a mother, moved to the very depths out of love for their child." – Pope Francis, Misericordiae Vultus
A Legacy of Mercy
He was the very first Pope to have chosen Francis as his papal name. Just two years after, he declared an Extraordinary Jubilee Year of Mercy. He has opened wide the doors of the Church to everyone who needs God's compassion, none whosoever had been excluded. For one whole decade, he proclaimed God's bountiful mercy, the mercy of a Father who pursues His children wherever they may be.
Whatever weakness may be said about Pope Francis, it cannot be denied that he will always be remembered for this one word: Mercy.
"Who am I to judge?" said the Pope who believes that God's judgments will always be tempered by His mercy.
As the Church celebrates the 10th year of his pontificate on March 13, 2023, let us try to dig deeper into the Pope's legacy on God's mercy.
Words of Mercy
Here are some of Pope Francis's quotes that could most powerfully reflect the love and mercy of God:
"If someone is gay and he searches for the Lord and has good will, who am I to judge?" (CBS News)
Pope Francis spoke not only for those who hunger for bread but for those who hunger for the love of God.
"God is in every person's life. God is in everyone's life. Even if the life of a person has been a disaster, even if it is destroyed by vices, drugs or anything else—God is in this person's life. You can, you must try to seek God in every human life. Although the life of a person is a land full of thorns and weeds, there is always a space in which the good seed can grow" (Vatican Files)
The Holy Father never lost hope for anyone. He refused to see any person as unforgivable or irredeemable by the saving power of God. To God, every human life is precious. And for as long as one is alive, there is hope for change and for salvation.
"Jesus welcomes [all]. But not only does He welcome, He goes out to see people… And if people are hurt, what does Jesus do? Scold them because they are hurt? No, He comes and He carries them on His shoulders." (Catholic News World)
The Pope has always tried to give the people a vision of God's tenderness and love. He wants us to believe in God not because of fear, but because we were able to see His great compassion for His children.
"And when God forgives, he forgives like a Father and not like an official in the law court who reads out the verdict saying: 'Acquitted for lack of evidence.' He forgives us from within his heart. He forgives because he loved that person." (Vatican Radio)
How often do we ask for forgiveness only to avoid the punishments of hell? While even this fear may urge us later on toward true repentance, we shouldn't forget what God's forgiveness is like.
Too often, we are tempted to think about legalities and technicalities as though we are merely trying to be excused from a verdict coming from a cold and distant judge.
To achieve true contrition, we must look at the God who cares for us all. He gave us His commandments not out of whim but out of love.
"In Him, in Christ Jesus, we have been loved, beloved, desired. There is Someone who has engraved in us a primordial beauty, that no sin, no wrong choice will ever erase completely." (Catholic News Agency)
The evil one who accuses us can make us focus only on the guilt we feel for our sins. While this guilt should alert us about the things we're doing wrong, we shouldn't let it lead us to despair.
Let us remember that we were made in God's image. While sin can distort the beauty that God has created, there will always be that spark of light that can remind us about who we are.
"Without mercy we have little chance nowadays of becoming part of a world of 'wounded' persons in need of understanding, forgiveness, love." (Salt + Light Media)
We Christians sometimes get engaged in arguments that lead to more chaos instead of peace. In search of truth, we lose the path of mercy and love.
Let us remember that both truth and love are necessary. Instead of merely debating about issues that often lead us to hurt one another, let us try to look at each person as a being made and loved by God.
"[The] path to our encounter with Jesus-God are his wounds. There is no other" (Catholic News Agency)
This is a beautiful reminder about how we can better love God and our neighbor. If we want to authentically love other people, we must learn to look at their wounds. We must be able to empathize with people and truly feel someone else's pain and suffering.
Mercy and the Face of God
When Pope Francis visited the Philippines, I saw how people from all walks of life flocked to see him. In my book "To Love an Invisible God", I wrote in detail how I saw Jesus still walking among His people, loving them and giving them hope.
In a world that is often divided by many issues and controversies, perhaps what we need the most is to seek refuge within the wounds of Jesus. Within His wounded and merciful heart, may we find comfort in knowing that we are not alone in our sufferings.
"Mercy cannot become a mere parenthesis in the life of the Church; it constitutes her very existence, through which the profound truths of the Gospel are made manifest and tangible. Everything is revealed in mercy; everything is resolved in the merciful love of the Father." – Pope Francis, Misericordia et Misera
---
Jocelyn Soriano is the author of To Love an Invisible God. "Is it really possible to love a God we cannot even see?"