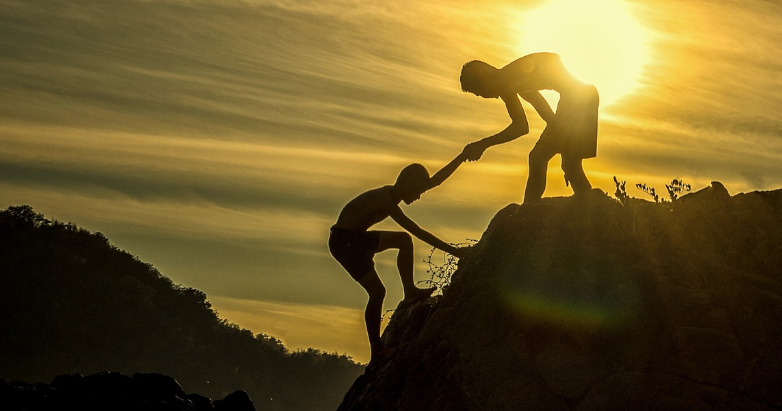 "It's like in the great stories, Mr. Frodo. The ones that really mattered. Full of darkness and danger they were. And sometimes you didn't want to know the end… because how could the end be happy? How could the world go back to the way it was when so much bad had happened? But in the end, it's only a passing thing… this shadow. Even darkness must pass." – J.R.R. Tolkien, The Lord of the Rings
Have you ever experienced something so painful and terrible that you feel as though the whole world itself has changed? You feel as though the world has become dark and you doubt that it could ever be bright again.
It happens in our personal lives. And it also happens to the greater world around us. Losses. Tragedies. Calamities. Woes so great they change everything and we wonder how things could ever be good again.
We also see it in the gradual darkening of the world. As evil starts to grow its foothold, we see lesser and lesser light in life. Sin is everywhere. It has become the very lifestyle of the world! Can the process ever be reversed? Could the world ever turn to what is right again?
Our Fleeting Yet Painful Trials
What gives more weight to our suffering is the thought that it would never come to an end. It is like being trapped in hell where there is no escape and where our pain is only increased all the more each moment.
It is hard to hope because we can't see a path toward relief. All that we see is the heavy cross that we bear, the enemies that mock us and our weaknesses that betray us.
Pain makes us blind. It keeps us from seeing life beyond it.
What we must remember however, is that even the worst of our sufferings in this life would one day come to an end.
God is merciful and has even limited our lifespan in this imperfect world. We were not meant to be bound forever to this fallen world.
"Only one principle will give you courage, that is the principle that no evil lasts forever, nor indeed for very long." – St. Epicuris
"So we do not lose heart. Even though our outer nature is wasting away, our inner nature is being renewed day by day. For this slight momentary affliction is preparing us for an eternal weight of glory beyond all measure, because we look not at what can be seen but at what cannot be seen; for what can be seen is temporary, but what cannot be seen is eternal. – 2 Corinthians 4:16-18 (NRSVCE)
The Most Miserable Life on Earth
"In light of heaven, the worst suffering on earth will be seen to be no more serious than one night in an inconvenient hotel." – Saint Teresa Of Avila
Sometimes what the saints say can bother us. Why do they always talk about suffering? Why do they even want to embrace it?
But what we should understand is that the saints see things differently. Unlike many of us, the saints see things in the light of heaven.
They see how God can make all things right again. They also see the eternal value of our temporary sufferings.
"And I saw the other road, or rather, a path, for it was narrow and strewn with thorns and rocks; and the people who walked along it had tears in their eyes, and all kinds of suffering befell them. Some fell down upon the rocks, but stood up immediately and went on. At the end of the road there was a magnificent garden filled with all sorts of happiness, and all these souls entered there. At the very first instant they forgot all their sufferings." – St. Faustina (Divine Mercy In My Soul, 153)
Our Eternal Happiness
"Time is but a shadow, a dream; already God sees us in Glory and takes joy in our eternal beatitude. How this thought helps my soul. I understand then why he lets us suffer." -St. Therese of Lisieux
Have you ever watched a movie where the hero had to undergo severe trials before that moving and very satisfying happy ending? At the very end, you finally got it. You didn't have to find the words to explain away ever suffering. You just understood and you knew that it has all been worth it in the end!
I would like to believe that if we do not lose faith, the same would be true in our lives.
Your life now may feel empty, poor and dark. You may feel judged, misunderstood and cast away. The people whom you loved the most may be the very ones to cause you the deepest pain.
And we can't explain all that away. For the moment, we have to bear all that in faith and find the courage to carry on each day.
One day, however, we shall reap the reward for every good thing we ever did in this life. No love will be unrequited. No labor unrecognized.
There shall be a day of justice and revelation. A day of mercy and kindness and love that never ends. Let us endure our trials today and look forward in hope.
It may not seem obvious for now, but the world can be right again. Darkness is passing. But the True Light from God endures forevermore!
"Earth hath no sorrow that heaven cannot heal." – St. Thomas More.
You may also want to read: How Do You Live as a Catholic in a Godless World?
---
Jocelyn Soriano writes about relationships and the Catholic faith at "Single Catholic Writer". She wrote the books 366 Days of Compassion, Defending My Catholic Faith and Questions to God.