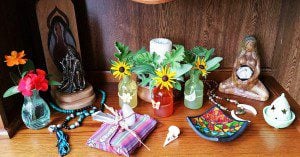 Remember your manners – On the last full moon I worked some candle magic for prosperity, nothing fancy just a gold candle, a few herbs and heap loads of intent.
This week the spell was fulfilled just when it was needed.
I wanted to thank the gods, literally.
The altar
Having recently moved my office around in our house and to be honest my main altar hadn't been put back up properly although I have had a small altar to Ganesha on my desk to celebrate Ganesha Chaturthi (his 10 day birthday celebration).
So…the altar was where I started, giving it a good clean and clear out and re laying clean, new and fresh items along with herbs and flowers from the garden.
Dressing your altar and leaving offerings of food and flowers is an excellent way to say thank you when the gods have come through for you.
The garden also got a bit of a tidy and fed the birds although I do that most days anyway, but dead heading, tidying plants and bird feeding is also a good way to say thank you to Mother Nature herself.
I have also placed fresh flowers in the vase by my Lakshmi image and honey for Ganesha – these two remove obstacles and allow the abundance to flow…I like them lots.
As the wheel is turning it is time for my matron goddess The Cailleach to show herself too so a lot of my freshly set out altar is to welcome her back.
I don't work a lot of spells, but when I do I like to give thanks on their fruition, it is after all only good manners. And if I keep asking the gods for favours and giving nothing in return I am pretty sure they would get fed up with my requests fairly quickly!
Just remember to say thank you…