The Goddess Blodeuwedd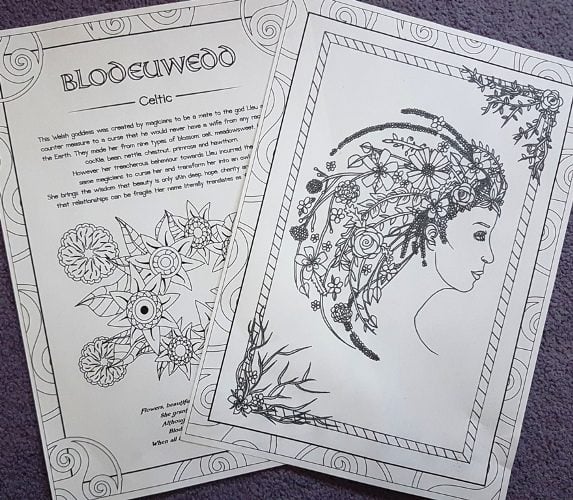 Flowers, beautiful as she…forged of nine blossoms
She grants wisdom to those who wish
Although a curse bestowed upon her,
Blodeuwedd still gives us courage
When all is lost, a light of hope in the darkness
My goddess
Although the goddess that looks after me, chastises me and kicks my butt into action is the Cailleach and has been for many years. Although I still work with other deities as they present themselves to me. I don't often go looking for one but I do find especially during the summer months the Cailleach steers one or two of them in my direction. She likes to take a back seat in the warmer months but doesn't like to see me taking it easy so she will often prompt me to work with different gods and goddesses.
Blodeuwedd
So…at the moment I am looking into Blodeuwedd, here is what I have discovered:
Her name should be pronounced: Bluh die weth or Bluh dEH wehth.
This Welsh goddess was created by magicians (Math and Gwydion) to be a mate to the god Lleu (who was son of Arianrhod) as a counter measure to a curse set by Arianrhod that he would never have a wife from any race on the Earth.
They made her from nine types of blossom; oak, meadowsweet, broom, cockle (burdock), bean, nettle, chestnut, primrose and hawthorn.
Her story
However, her treacherous behaviour towards Lleu incurred the same magicians to curse her and transform her into an owl.
Although the story pictures her as a woman of betrayal there is perhaps more to the story than first meets the eye. Having been literally created by man for man in an image chosen by man, initially she was the dutiful loving wife but as we know life doesn't always work in straight lines. She makes choices based on her heart and takes control of her own destiny.
Blodeuwedd is however the force that plotted with her lover to kill her husband but I guess it wouldn't be a good story if she didn't. This goddess played the role she was created for…
Symbols/Correspondences
Flowers in particular the nine she was created from (oak, meadowsweet, broom, cockle, bean, nettle, chestnut, primrose and hawthorn).
Owls.
She is a goddess of life and death.
Blodeuwedd is often used as the May Queen.
Her colours are white and yellow.
Water is the element associated with her.
Blodeuwedd's name literally translates as 'flower face'.
Work with Blodeuwedd for
Hope, clarity, relationships, beauty, love, power, nurturing, transformation, independence and healing.
She brings the wisdom that beauty is only skin deep, hope, charity and a reminder that relationships can be fragile.
Poem, some information and image taken from Gods & Goddesses Colouring Book
For the story in detail there is a very good version here http://www.druidry.org/library/gods-goddesses/blodeuwedd