Meditation tea blends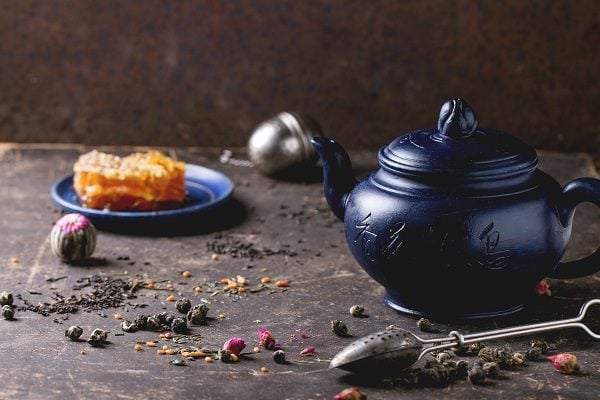 I find it best to meditate on an empty stomach or when I haven't eaten too much, attempting to meditate after a huge dinner just makes you sleepy…
Drinking a special tea blend before you start your meditation can help you focus, here are some ideas to get you started but experiment with herbs and spices you have in your kitchen cupboards, see what works for you.  Herbal tea can sometimes be a bit bland or bitter if you find it so just add a teaspoon of honey or sugar.  But please be careful if you are pregnant or taking any kind of medication, check with a qualified practitioner first, herbal remedies and teas can have adverse affects when taken with some medications and some can be dangerous for pregnant ladies.
Meditation herbs
Some suggested herbs that could be used for meditative, calming and relaxing effects, they all have lots of different magical properties but I have listed the ones that should specifically help with meditation:
Basil – Love, happiness and peace.
Caraway – Health, memory and love.
Cardamom – Love, clarity and uplifting.
Chamomile – Sleep, dreams, love, calming, relaxing, purifying and balancing.
Chrysanthemum – Spirituality.
Cinnamon – Healing, psychic powers, love, focus and spirituality.
Cloves – Love and commitment.
Cocoa nibs – Happiness, love and positive energy.
Coriander – Healing, peace, love and release.
Elderflower – Healing, intuition and rebirth.
Ginger –Love, healing and cleansing.
Jasmine petals – Dreams, love and meditation.
Juniper – Love, healing, purification, psychic powers and clarity.
Lavender – Happiness, peace, love, sleep and clarity.
Lemon – Purification, happiness, decisions, uplifting and love.
Lemon balm – Healing, memory and love.
Lemon verbena – Purification and love.
Lemongrass – Happiness, knowledge and shape shifting.
Liquorice – Love and balance.
Mallow flowers – Love
Marigold – Psychic powers, dreams and happiness.
Mugwort – Psychic powers, dreams, healing, cleansing and astral travel.
Orange – Love, happiness, uplifting, purification and clarity.
Peppermint – Healing, cleansing and calming.
Rose petals & rose hips – Love, psychic powers, healing, peace, knowledge and dream help.
Rosemary – Love, mental powers, purification, healing and sleep.
Saffron – Happiness, healing and psychic powers.
Scullcap – De-stress and peace.
Star anise – Psychic powers, purification, dreams, sleep and spirituality.
Tea (black) – Meditation
Sourcing
You don't need to source herbs and flowers of course you can use readymade herbal teabags on their own or mix them up to create your own blends, liquorice and peppermint together is one of my own personal favourites.  If you have home grown herbs and flowers then fantastic but if you don't and there is an Asian supermarket near you they are brilliant for sourcing very inexpensive herbs and spices otherwise just take a look in your local market, farmers market or super market.
For all of the following recipes add your ingredients to a cup of boiling water and allow to steep for 3-5 minutes then strain.
Meditation Tea #1
Two slices of root ginger
Two slices of lemon
½ teaspoon lavender flowers
Meditation Tea #2
2 teaspoons dried peppermint or a bunch of fresh leaves
3 or 4 rose petals
2 saffron stamens
Meditation Tea #3
1 tablespoon green tea
3 or 4 rose petals
1 pinch skullcap
Meditation Tea #4
2 teaspoons chamomile flowers
1 teaspoon honey
Meditation Tea #5
1 cardamom pod
1 clove
½ star anise
¼ teaspoon ground cinnamon
2 teaspoons black or green tea
Meditation Tea #6
1 teaspoon dried peppermint
1 teaspoon chamomile flowers
Meditation Tea #7
1 teaspoon dried peppermint
½ teaspoon dried liquorice
Taken from Pagan Portals Meditation