Kitchen Witchcraft: Crystal Magic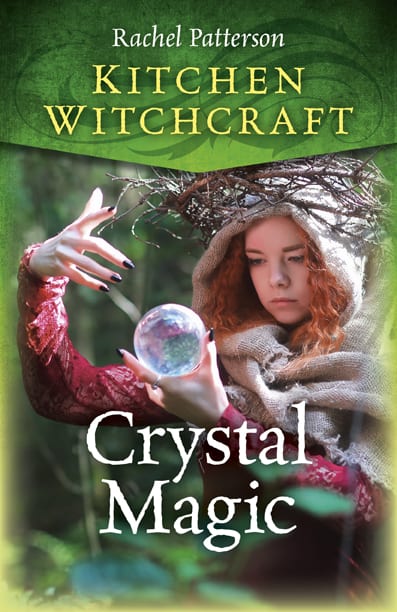 This is the third book in my Kitchen Witchcraft series and one that I had wanted to write for a while. As a general rule, I don't use crystals for healing very much (although I am a certified crystal healer, time and other things just got in the way). However, I do use crystals within spell work. Pretty much every spell I work has a crystal involved, even if it is just popping a crystal in front of a candle for candle magic.
I wanted to split the book; so the first half has useful information such as programming, crystal grids, lithomancy, magical bling, colour magic and charging and projection and reception..
The second half is a reference guide to a selection of what I believe to be more commonly used crystals. It also includes methods for cleansing and correspondences for intent, elements and planets.
In fact, here is a list of the contents just so you know…
Contents:
Where do crystals come from?
Ethics
The Power Within
Categories
Choosing
Cleansing
Crystals under the full moon
Connecting and Energy
Meditation
Crystal Meditation
Programming and Charging
The aftermath
Inclusions
Projection and Reception
Magical Bling
Crystal Arguments
Shape matters
Size doesn't matter
Colour Magic
Absorbing crystal colours
Chakras
Witch Bottles
Poppets
Spell pouch/mojo bags
Magic box
Pendulums
Runes/Lithomancy
Wands
Scrying
Crystal Water
Crystal Altar
Working magic with crystals
Crystal Healing
Crystal Aura Cleansing
Crystals and psychic abilities
At home and at work
Crystals and children
Crystals and animals
Crystals and the environment
Crystal Grids
Power Wheel
Meditation Beads
Candle Magic
Elements
A year of stones
Zodiac stones
Days
Moon phases
What happens if a crystal breaks?
Touchstone
A crystal discovery meditation
CRYSTAL SPELLS
REFERENCE SECTION
LOTS OF LISTS
Intent
Elements
Planets
Sparkly endings
This book is for the Witch or spell caster, someone who likes to work magic with crystals.
Publication is 29th November 2019 and it is available in all good online stores and some of the brick and mortar ones too!
Reviews:
You don't need to take my word for it, because obviously I am a bit biased…here are some reviews:
5 out of 5 stars. I'm new to witchcraft and it's full of reading- everyone I meet tells me to read, read, read. From my reading I knew I was more interested in crystal magic. I wanted something that went a little deeper than crystal properties. I needed something that would gave me insight into how to actually know what I'm doing. This was the perfect book for what I was looking for!
5 out of 5 stars – If you are curious about crystals and want to know more this is a great introduction. The first part of the book gives a lot of helpful information on the various uses of crystals and how to get started. The next section of the book gives a great breakdown of stones by birthstone, zodiac, even days of the week! Very helpful for augmenting your crystal work and tailoring to specific applications! The rest of the book, and my particular favorite is going into details on the various crystals, properties, planet, meanings and suggested cleansing methods…..While I view this as a reference book, about the last 20% is the authors "lists" which I loved! If you are focused on certain outcomes or characteristics they are broken down alphabetically and include a list of stones support each outcome. Overall, this book has many practical uses for the curious or those who have started collecting or looking to collect crystals with the intent of enhancing their own lives…..
​This was a really cool look at crystals for me. I have always been drawn to crystals, collecting them even as a kid. I was not familiar with many of the meanings the stones have and what they might symbolize. I enjoyed reading about them, and the spells some use in accordance with them.
For more details and stockists see:
https://www.rachelpatterson.co.uk/crystal-magic-kitchen-witchcraft
or for further reviews:
https://www.johnhuntpublishing.com/moon-books/our-books/kitchen-witchcraft-crystal-magic