Kitchen Witch Bakes for November – Leading on from the last harvest, November still has a huge abundance of gorgeous produce to work with, but we are winding down now.  Preparations are being made for the winter.  The weather will also be colder now, the warm summer months seeming so distant.  Lots of lovely big hearty meals are the way to go.
Here are a couple of my favourites from my new book (shameless plug) – Practically Pagan Cooking
Treacle tart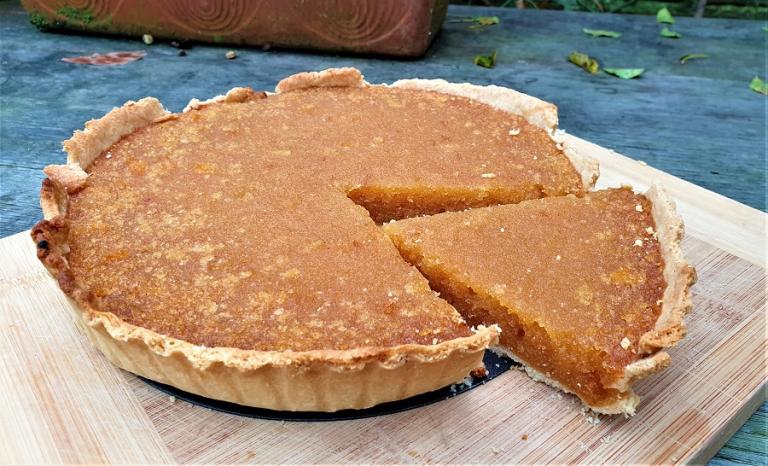 I have often found treacle tart to be dry and disappointing when I have eaten it in the past, but this recipe is a game changer.  Gorgeously soft and gooey.
220g/7 ¾ oz fresh white breadcrumbs
600g/21 oz golden syrup
For the pastry:
180g/6 ¼ oz plain flour (all purpose)
90g/3 oz butter
2 to 3 tablespoons water
Preheat your oven to 400F/200C/Gas 6. Lightly grease a tart tin.
Rub the butter into the flour until it resembles breadcrumbs, pour in the cold water a small amount at a time and bring together to form a dough.  Roll out on a lightly floured surface and fit into a tart tin.  Prick the base of the pastry with a fork.  Pop the tart case into the fridge for half an hour to rest.
Then pop a piece of baking parchment into the tart case and fill with dried/baking beans.  Bake in the oven for ten minutes.  Remove the paper and beans and return the pastry case to the oven for a further ten minutes.
Mix the breadcrumbs with the golden syrup and pour this mixture into the baked pastry case.
Turn the oven down to 350F/180C/Gas 4.
Bake the filled tart for half an hour.
Leave to rest for ten minutes then serve.
Chocolate puddle pudding (vegan option)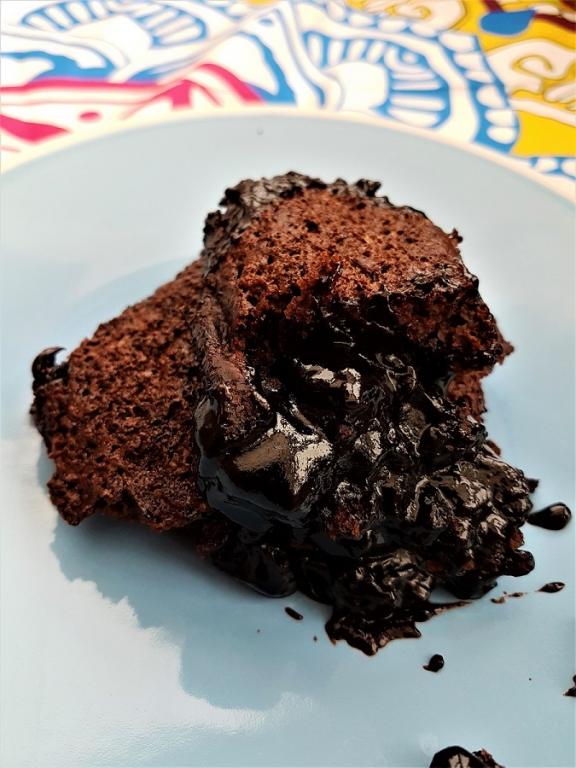 When I left home at the tender age of 17 and moved in with a pig farmer (long story…) this was one of the recipes I made a lot in my new home…I had forgotten about it until recently, it is seriously easy to make.
175g/6 oz self-raising flour
150g/5 ¼ oz soft brown sugar
50g/1 ¾ oz cocoa powder
150ml/5 fl oz milk (any kind)
2 teaspoons vanilla essence
50g/1 ¾ oz butter, melted (or vegan margarine)
50g/1 ¾ oz soft brown sugar
500ml/1-pint hot water
Mix the flour and sugar with half the cocoa.  Beat in the milk, essence and melted butter and then pour into a buttered 1.4 litre (2 ½ pint) ovenproof dish.  Mix the remaining cocoa with the smaller amount of sugar and sprinkle over the top.
Pour the water over the pudding and bake at Gas 4/180C/350F for about 1 hour.
The sponge should be crusty and cooked with a lush sauce underneath.
Serve hot.
Chocolate brownie flapjacks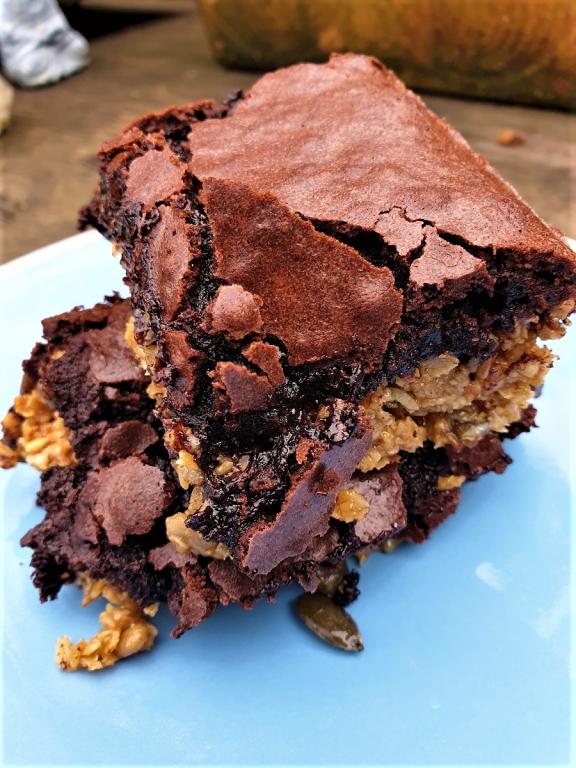 If a mummy brownie and a daddy flapjack love each other very much…this is their offspring and it is wickedly good.  Why choose between a brownie or a flapjack when you can have both?
Flapjack layer
150g/5 ¼ oz butter
150g/5 ¼ oz soft brown sugar
140g/5 oz golden syrup
325g/11 ½ oz porridge oats
100g/3 ½ oz mixed seeds
Brownie layer
2 eggs
225g/8 oz caster sugar
140g/5 oz butter
60g/2 oz cocoa powder
60g/2 oz plain flour (all-purpose flour)
40g/1 ½ oz dark chocolate chips
Preheat your oven to 300F/150C/Gas 2.  Line a 20cm x 32cm baking tray with parchment.
Start by making the flapjacks.  Melt the butter, sugar and golden syrup in a pan over a gentle heat.  Add the porridge oats and seeds.  Mix together.
Then for the brownie, whisk together the eggs and sugar until they are light and fluffy.  Melt the butter and whisk in the cocoa powder.  Add the butter mixture to the eggs and sugar, mix and then fold in the flour and chocolate chips.
Spread the flapjack mixture on the base of the lined baking tin.
Next pour the brownie mixture over the top.
Bake for 35-40 minutes, the brownie will be slightly cracked on the top.
Cut into squares.
Recipes from:
Publication 29th May 2020
​
A book to take you through the seasons. Cooking with produce when it is at its best (and cheapest). Recipes for all, with menu ideas to reflect the energy of each month of the year. Family style, no fuss cooking to nourish the body, spirit and soul.
12 sections with recipes for each month to reflect the product that is in season, which include; meat main, vegetarian/vegan main, soups, standard and vegan desserts, bread and of course…cake; both standard and vegan cake options.