Kitchen Witch Bakes for January
To be honest January never used to be my favourite month. The festivities and exciting energy of December is all over. The weather is cold and dreary, and no one has any money. It feels a bit flat and disappointing. However, it is also the start of a new calendar year, the chance to put new things into action. The weather is cold in January in the UK so for me it is still all about comfort food. Eating lettuce in January seems wrong and it isn't in season anyway, bring on the comfort cookies, big bowls of steaming hot food and gut busting puddings…
Oatmeal raisin cookies (vegan option)
These are a real comfort, feel good kinda cookie. The ones you want to eat when you are in for the night, on the sofa with a blanket and a mug of hot chocolate watching old movies.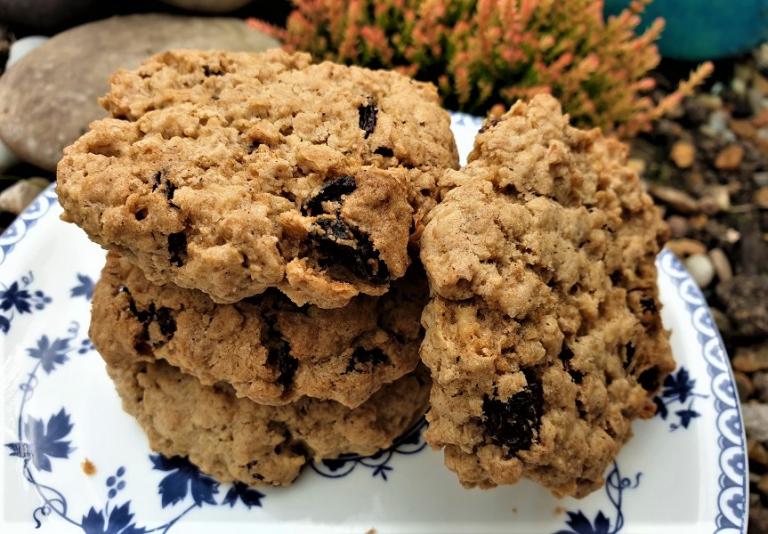 185g/6 ½ oz plain flour (all-purpose flour)
225g/8 oz porridge oats
150g/5 ¼ oz raisins or sultanas
1 ½ teaspoons mixed spice
½ teaspoon bicarbonate soda
½ teaspoon salt
150g/5 ¼ oz margarine (or vegan margarine)
150g/5 ¼ oz brown sugar
50g/1 ¾ oz sugar
2 teaspoons vanilla extract
1 tablespoon water
Preheat your oven to 350F/180C/Gas 4. Line two baking sheets with baking parchment.
Whisk the margarine, both sugars, vanilla and water until combined.
In a separate bowl mix together the flour, spice, bicarbonate soda and salt then gently stir this into the margarine mixture. Then fold in the oats and the raisins.
Pop scoops of the mixture onto the baking sheets, leaving space for them to spread. You should get about 28 cookies from this mixture.
Bake for 12 – 14 minutes, until the edges are golden.
Options
I prefer to use sultanas instead of raisins, they are sweeter and more plumptious.
Replace the raisins with chopped dried apricots, cranberries or dried cherries.
Substitute the raisins for chopped nuts or chocolate chips.
Orange and cinnamon cupcakes
Can't stop eating these…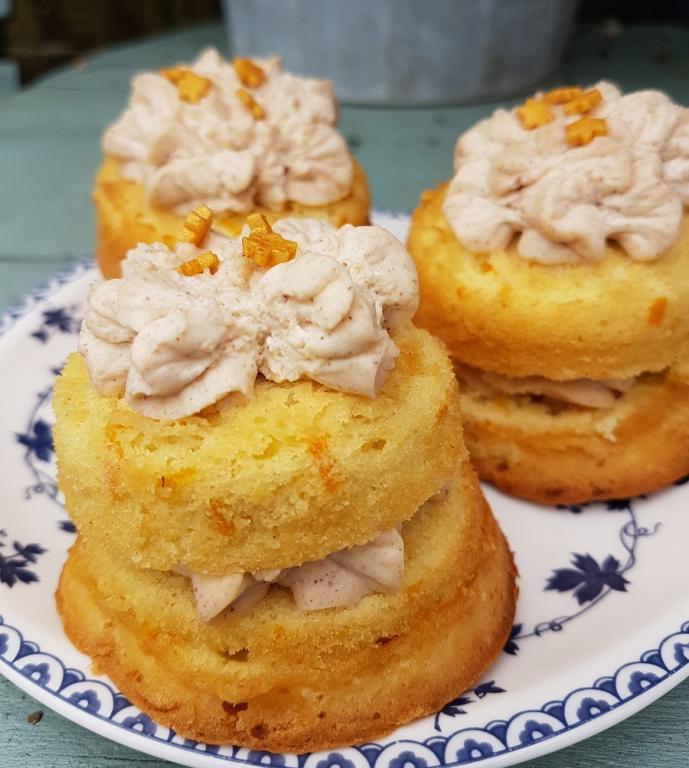 Cakes:
190g/6 ½ oz butter, softened
190g/6 ½ oz caster sugar
190g/6 ½ oz self-raising flour
3 large eggs
Grated zest of 4 oranges
Icing:
300ml/10 ½ fl oz double (heavy) cream
200g/7 oz mascarpone cream
1 teaspoon ground cinnamon
2 tablespoons caster sugar
Preheat the oven to 180C/350F/Gas Mk 4.
Grease a 12-hole muffin tin with butter.
Pop all the cake ingredients into a large bowl and whisk together until light and creamy (yup it's that easy). Divide the mixture between the 12 muffin holes. Bake for about 20 minutes. Leave them in the tin for about 5-10 minutes then turn them out onto a rack to cool completely.
To make the icing whisk the mascarpone and cream together with the sugar and cinnamon until it forms stiff peaks.
Cut each cake in half and pipe or spread the icing on the cut half and press the two halves together. I like to turn the cakes upside down as it looks better but go with what works for you. Then pipe a pretty swirl of icing on the top.
Recipes from:
Publication 29th May 2020
​
A book to take you through the seasons. Cooking with produce when it is at its best (and cheapest). Recipes for all, with menu ideas to reflect the energy of each month of the year. Family style, no fuss cooking to nourish the body, spirit and soul.

12 sections with recipes for each month to reflect the product that is in season, which include; meat main, vegetarian/vegan main, soups, standard and vegan desserts, bread and of course…cake; both standard and vegan cake options.