Working Magic: Support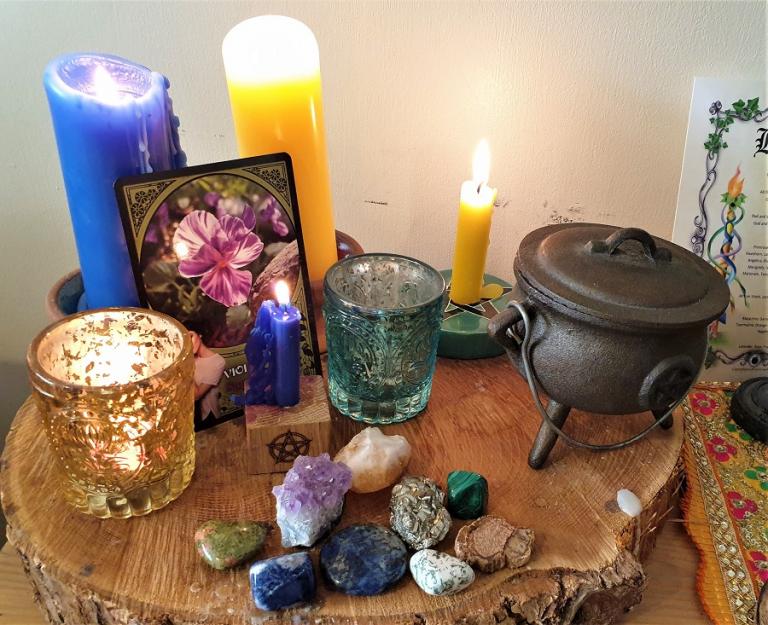 Each week I have been drawing an oracle card from my Flower Magic deck, today it was Violet which signifies 'support'. So, I am sharing the card along with other herbs, plants, foods, tarot cards and crystals that correspond with the intent of support. There is a video at the bottom of this blog post if you would like to watch and listen to the recording of my live talk.
Work with these suggestions as a guide, trust your intuition and use what you have to hand.
Candle spells, witch bottles, spell pouches or spells of any kind can benefit from using herbs, plants and crystals. Tarot and oracle cards can be used as focal point for spell work or meditation.
Be creative!
VIOLET – Support
Violet
(Viola odorata)
A spring flowering plant, the leaves are heart shaped with pretty purple or white flowers that the bees love.
White violets represent innocence and humility. Blue violets stand for loyalty, consistency and steadfastness.
Carry a violet with you to ease your heart from unrequited love (ahhhhhh).
Keep violets in your home or plant in your garden to bring about peace, healing and protection.
Use violets in all kinds of love and lust workings and don't be fooled by their size, for a small flower they pack a powerful punch of magic.
Violets also remind us to be true to ourselves and to be committed to what we do.
Violets are also associated with death and rebirth (the myth of Attis and the story of Persephone).
Violet Magical Properties:
Support, love, lust, peace, healing, protection, commitment, death and rebirth
Ruling planet – Venus
Sign – Cancer, Libra
Element – Water
Gender – Feminine
Herbs, Plant and Food Suggestions to work with:
Support – Borage
Uplifting – Bergamot (orange), Cardamom, Sweetgrass, lemon, orange
Strength – Bay, Black Pepper, Carnation, Daisy, Garlic, Horseradish, Horsetail, Lavender, Mugwort, Oak, Pennyroyal, Plantain, Saint John's Wort, Sweetpea
Relationships – Cleavers
Loyalty – Dogwood, Sunflower
Hope – Crocus, Hawthorn
Courage – Angelica, Birch, Borage, Carnation, Catnip, Columbine (Aquilegia), Daisy, Fennel, Myrrh, Plantain, Sweetpea, Thyme, Yarrow
Courage – Artichoke, garlic, liver, lobster, mushroom, sunflower seed, tea, thyme
Stability – Brussels sprouts, rice
Positive Energy – Chocolate, maple syrup
Crystals suggestions to work with:
Support – Blue lace agate, moss agate, aventurine (green), copper, fluorite, garnet, howlite, lepidolite, malachite, pyrite, quartz, tiger's eye, unakite
Uplifting – Blue lace agate, celestite, goldstone, jade (nephrite), larimar, lepidolite, moonstone, quartz, quartz (smoky), turquoise
Understanding – Blue lace agate, amethyst, copper, gold, howlite, kyanite, lapis lazuli, larimar, sodalite, sugilite, tourmaline, turquoise
Stability – Moss agate, brass, carnelian, fluorite, hematite, jasper, kyanite, petrified wood, selenite, silver, sunstone, tourmaline, unakite
Hope – Moss agate, amethyst, lepidolite, moonstone
Fears (to alleviate) – Moss agate, calcite (orange), chrysocolla, citrine, garnet, jasper, larimar, malachite, petrified wood, quartz (rose), quartz (smoky), sodalite, sunstone, tiger's eye, tourmaline
Tarot card suggestions to work with:
Strength, The Star, The Chariot, The Fool, Ace of Swords, Knight of Swords, Seven of Wands, Nine of Wands
Herbs, plant, food and crystal correspondences were taken from:
A Kitchen Witch's World of Magical Food
A Kitchen Witch's World of Magical Plants and Herbs
Kitchen Witchcraft: Crystal Magic
The oracle card deck is:
The tarot deck is Shadowscapes by Barbara Moore and Stephanie Pui-Mun Law
By Rachel Patterson