"When are you going to write a cook book?"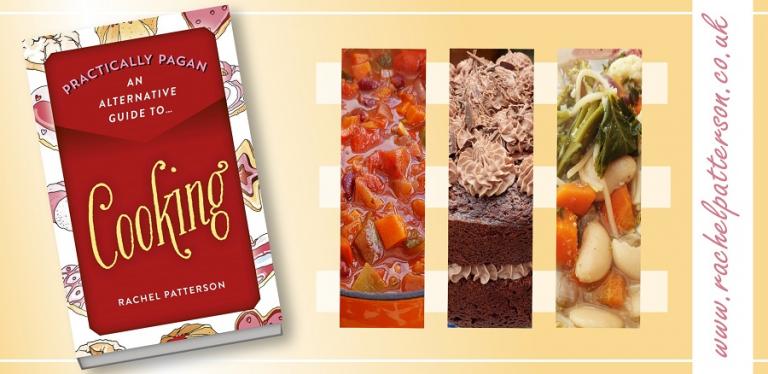 That was the questions asked by Mr John Hunt, the owner of John Hunt Publishing, of which Moon Books is an imprint, the publishing house that has handled nearly all of my books so far.
That question sparked an idea and the 'Practically Pagan Alternative Guide' series was born.
I an honoured that my book – Practically Pagan An Alternative Guide to Cooking is the first one to be published in the series, followed by Practically Pagan, An Alternative Guide to Wellbeing by the lovely author Irisanya Moon…and more to follow!
What is Pagan Cooking?
Well I covered that in a previous blog post https://www.patheos.com/blogs/beneaththemoon/2019/02/what-is-pagan-cooking/
For a sneak peak at some of the recipes I have been sharing a few on my Beneath the Moon blog:
Kitchen Witch Bakes for February
Kitchen Witch Bakes for January
Although the sneak peaks are all baking, the book contains a whole range of recipes.
The blurb
"A book to take you through the seasons. Cooking with produce when it is at its best (and cheapest). Recipes for all, with menu ideas to reflect the energy of each month of the year. Family style, no fuss cooking to nourish the body, spirit and soul.
12 sections with recipes for each month to reflect the product that is in season, which include; meat main, vegetarian/vegan main, soups, standard and vegan desserts, bread and of course…cake; both standard and vegan cake options."
Early reviews
5 out of 5 stars. I'm reading an advanced copy of Rachel's new book 'Practically Pagan – An Alternative Guide to Cooking' right now. Even though I'm not Pagan, I'm really enjoying it. My practice as a gnostic can benefit. I'll be slowly working my way through your book this week but I can already tell it's fantastic. Thank you Rachel and Moon Books for giving me the opportunity to review it.
5 out of 5 stars. Besides reading, my other main interest is cooking. Although there are no pictures in this recipe book, it didn't really matter to me. I enjoyed reading the comments as to what Rachel Patterson thought about each recipe. Whether it was a favourite or as to why she had slightly varied a recipe. Several of the recipes i'm already familiar with, having cooked them over the years. I've not had bacon roly poly for years, but the idea of baking rather than steaming, now has me wanting to try. The chocolate puddle pudding is something that i aim to make soon, as well as the Florentine rice tart. There are not many recipes containing meat, but then i don't eat as much meat as i used to. Whether one is Pagan or not (I'm not), this recipe book is worth a read.
Very interesting approach to cooking. The chapters are set up by months and indicate what produce is generally available at that time.
Several of the recipes sounded great and I made Chana and Spinach Curry. It contained easy to find ingredients (most I had at home) and it was easy to make. Very good and will be a nice addition to my menu rotation.
To be published 29th May 2020 – it is available for pre-order now from all the usual stockists.
https://www.johnhuntpublishing.com/moon-books/our-books/practically-pagan-alternative-guide-cooking
https://www.rachelpatterson.co.uk/practically-pagan-cooking