Working Magic: Balance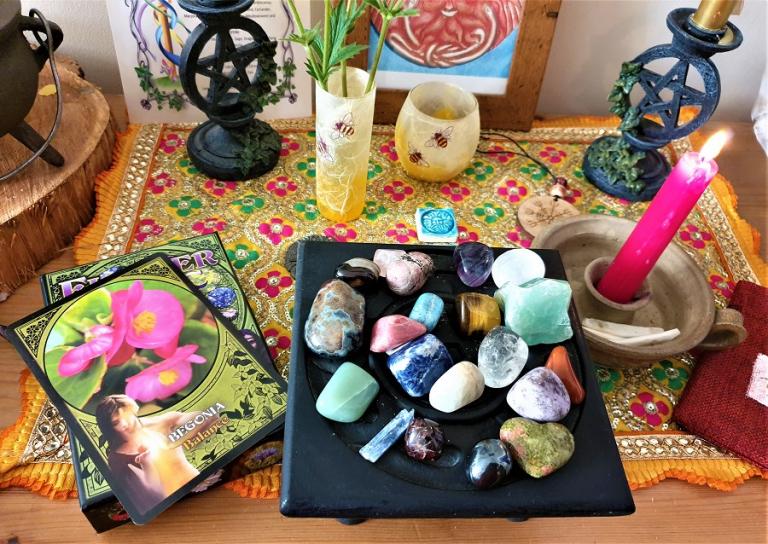 Each week I have been drawing an oracle card from my Flower Magic deck, today it was Begonia which signifies 'balance'. So, I am sharing the card along with other herbs, plants, foods, tarot cards and crystals that correspond with the intent of balance. There is a video at the bottom of this blog post if you would like to watch and listen to my little talk.
Work with these suggestions as a guide, trust your intuition and use what you have to hand.
Candle spells, witch bottles, spell pouches or spells of any kind can benefit from using herbs, plants and crystals. Tarot and oracle cards can be used as focal point for spell work or meditation.
Be creative!
Begonia Wisdom
Ah…balance. Something all of us always seem to be seeking. It can be an illusive little beggar at times. Having an unbalanced work/home/family/friends/social life can not only cause absolute chaos it can be detrimental to your health, well being and overall sanity. Time to take a little peak at how your life balances out. What do you need to do to address it? How can you shuffle and re-arrange things to make your life more comfortable and easily manageable, allowing yourself a bit of 'me' time too? Make a list, write it on a note pad or a chalk board, type it up on the computer do whatever you have to do to allow yourself to step back and see the big picture and how it all shares out. I am betting there will be some uncomfortably overwhelming items on the work side and not so much on the nice enjoyable things in life column. Sort it out now before things get completely out of hand.
Begonia Magical Properties:
Balance, heightened awareness, psychic abilities, beware a fanciful nature, to send a warning, dark thoughts, being cautious, harmonious communication, gratitude for someone, individuality, justice, peace, protects from gossip
Herbs and Plants for Balance
Alyssum
(Alyssum spp. & Lobularia spp)
Alyssum Magical Properties:
Protection, Maiden magic, peace, calming, balance, spirituality
Element – Air
Gender – Feminine
Chamomile
(Chameamelum nobile, Anthemis nobilis)
Chamomile Magical Properties:
Sleep, dreams, love, calm, money, relaxation, purification, balancing
Ruling planet – Sun
Sign – Leo
Element – Water
Gender – Masculine
Dill
(Anethum graveolens)
Dill Magical Properties:
Protection, love, lust, money, jealousy, balance, clarity, knowledge, magic
Ruling planet –Mercury
Sign – Cancer, Gemini, Leo
Element – Fire
Gender – Masculine
Elm
(Ulmus campestris)
Elm Magical Properties:
Love, balance, luck, energy, psychic powers
Ruling planet – Saturn, Mercury
Element – Water
Gender – Feminine
Holly
(Ilex aquifolium, Ilex opaca)
Holly Magical Properties:
Protection, luck, dreams, balance, success
Ruling planet – Mars, Saturn
Element – Fire
Gender – Masculine
Honeysuckle
(Lonicera caprifolium, Lonicera japonica, Lonicera periclymenum)
Honeysuckle Magical Properties:
Prosperity, psychic powers, protection, balance, lust, meditation, memory
Ruling planet – Jupiter
Sign – Gemini, Cancer
Element – Earth
Gender – Masculine
Patchouli
(Pogostemon)
Patchouli Magical Properties:
Grounding, Earth magic, prosperity, money, protection, sex magic, balance, calm
Ruling planet – Saturn
Sign – Virgo
Element – Earth
Gender – Feminine
Rue
(Ruta graveolens)
Rue Magical Properties:
Protection, health, healing, purification, balance, clarity, anxiety, hex breaking
Ruling planet – Mars, Sun
Sign – Leo
Element – Fire
Gender – Masculine
Witch Hazel
(Hamamelis virginiea)
Witch Hazel Magical Properties:
Protection, divining, balance, grief
Ruling planet – Sun, Saturn
Sign – Capricorn
Element – Fire
Gender – Masculine
Woodruff
(Asperula odorata, Galium odoratum)
Woodruff Magical Properties:
Protection, money, balance, justice
Ruling planet – Mars
Element – Fire
Gender – Masculine
Magical Food for Balance
Liquorice
(Glycyrrhiza glabra)
Liquorice Magical Properties:
Love, passion, balance
Ruling planet – Venus, Mercury
Element – Earth, Water
Gender – Feminine
Mushrooms
Mushrooms Magical Properties:
Strength, courage, magic, balance
Ruling planet – Moon
Element – Earth
Gender – Feminine
Oysters
Oyster Magical Properties:
Passion, balance
Ruling planet – Moon
Element – Water
Gender – Masculine & feminine
Crystals to work with for Balance
Agate
Amber
Green Aventurine
Chrysocolla
Chrysoprase
Copper
Fluorite
Garnet
Hematite
Jasper (red)
Kyanite
Lepidolite
Moonstone
Quartz
Rose quartz
Rhodocrosite
Rhodonite
Selenite
Silver
Sodalite
Sugilite
Sunstone
Tiger's Eye
Tourmaline
Turquoise
Unakite
Tarot cards for balance:
The Lovers
Justice
Temperance
Two of Swords
Four of Wands
Two of Cups
Herbs, plant, food and crystal correspondences were taken from:
A Kitchen Witch's World of Magical Food
A Kitchen Witch's World of Magical Plants and Herbs
Kitchen Witchcraft: Crystal Magic
The oracle card deck is:
The tarot deck is Legacy of the Divine Tarot by Ciro Marchetti
By Rachel Patterson