Kitchen Witch Bakes for April
April is a lovely month particularly for those that like to garden (that includes me). The end of March/beginning of April will find me outside in my small back garden tidying up and preparing for the new season. If we are lucky the weather starts to improve, and we even get some pretty warm days. Spring has most definitely sprung, and Mother Nature is showing signs all around us. A sneak peek into the bounty of wonderful produce that is in store for us.
Salt and pepper soda bread
Soda bread doesn't use yeast, so it is really quick and easy to make.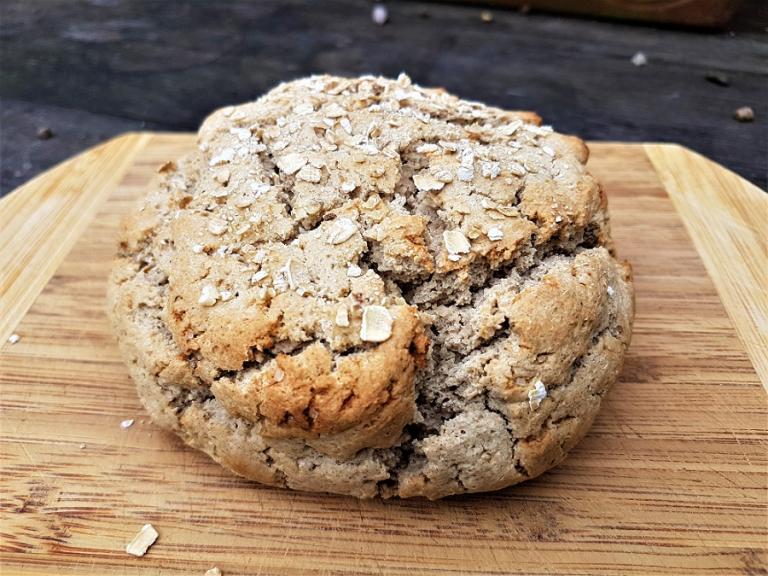 225g/8 oz wholemeal or buckwheat flour
2 teaspoons baking powder
½ teaspoon salt
1 teaspoon brown sugar
25g/0.8 oz butter
150ml/5 fl oz milk (any kind)
Teaspoon freshly ground black pepper
A few porridge oats
Preheat the oven to 400F/200C/Gas 6. Grease a baking tray.
Mix together the flour, baking powder, salt, pepper and sugar. Rub in the butter. Add in the milk and mix together to form a soft dough. Shape into a round and pop onto the baking tray.
Brush the top with milk and sprinkle over a few oats. Bake for about 25 minutes until well risen and nicely browned.
Anzac cookies
These oat and coconut biscuits apparently hail from Australia and New Zealand and were named in honour of those that fought in World War I. I have taken these to several workshops and I always get asked for the recipe.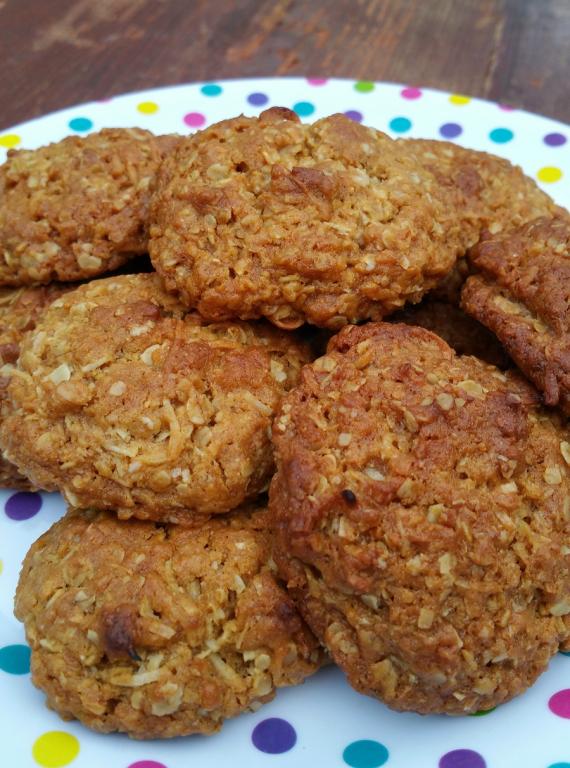 150g/5 ¼ oz plain (all purpose) flour
125g/4 ½ oz porridge oats
75g/2 ½ oz desiccated coconut
50g/1 ¾ oz soft light brown sugar
25g/0.8 oz sugar
Pinch salt
125g/4 ½ oz butter
100g/3 ½ oz golden syrup
½ teaspoon bicarbonate of soda
2 tablespoons boiling water
Preheat the oven to 350F/180C/Gas 4 and line two baking sheets with baking parchment.
Mix together the flour, oats, coconut, both sugars and salt.
Melt the butter and golden syrup together in a saucepan over a low heat, remove from the heat and add in the bicarbonate of soda and boiling water, mix quickly to combine.
Pour the melted butter mixture into the dry ingredients and mix until combined. Using your hands roll level tablespoons of the mixture into walnut size balls and arrange on the baking sheets leaving space between each one as they will spread during cooking.
Using the back of a spoon slightly flatten each biscuit and bake in the oven for 12 minutes, until almost firm. The biscuits will crisp up and firm more as they cool.
Taken from Practically Pagan Cooking by Rachel Patterson
Publication 29th May 2020/Rachel Patterson/Kitchen Witch
A book to take you through the seasons. Cooking with produce when it is at its best (and cheapest). Recipes for all, with menu ideas to reflect the energy of each month of the year. Family style, no fuss cooking to nourish the body, spirit and soul.
12 sections with recipes for each month to reflect the product that is in season, which include; meat main, vegetarian/vegan main, soups, standard and vegan desserts, bread and of course…cake; both standard and vegan cake options.