Kitchen Witch Bakes for March
March is often when we start to see the first signs of spring or if Mother Nature is being fickle (as she so often is) we can also get snow!  But it does have the feel that spring isn't too far around the corner.  March also hosts the spring equinox, or Ostara as it is often called by modern pagans.  Darkness and light are in balance as the earth begins to stir.  And of course, this month includes chocolate eggs, which is never a bad thing.
Spring cookies
These super yummy cookies have all the promise of spring.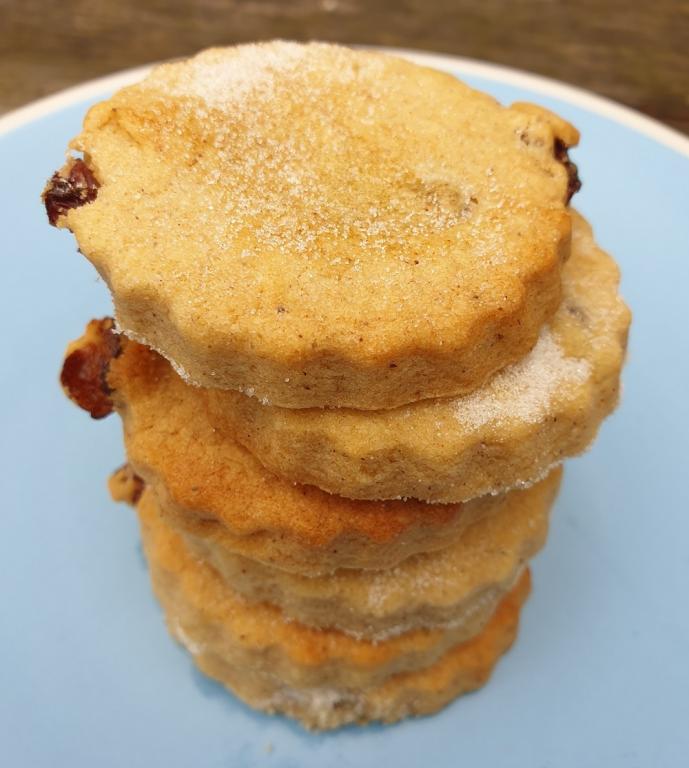 125g/4 ½ oz butter, softened
75g/2 ½ oz caster sugar plus extra for sprinkling
1 egg, separated
200g/7 oz plain flour (all-purpose flour)
Pinch salt
½ teaspoon baking powder
1 teaspoon mixed spice
60g/2 oz sultanas or raisins
1 teaspoon finely chopped mixed peel
1-2 tablespoons milk
Preheat your oven to 400F/200C/Gas 6.
Grease two baking sheets.
Beat the butter until creamy then gradually add the sugar, continuing to beat until the mixture is light and fluffy.  Add the egg yolk and whisk again.  Add in the flour salt, baking powder and spice, stir until combined.  Pop in the sultanas and peel, bring the dough together. If the dough is a little too dry add a tablespoon of milk.
Turn out onto a lightly floured surface and roll out until it is about 5mm/¼ inch thick.  Cut into rounds with a cookie cutter.  Place them onto the baking sheet spaced apart.
Bake for 10 minutes, until firm and pale golden.
Take the cookies out of the oven and brush each one with egg white and sprinkle the top with a little caster sugar.    Return the cookies to the oven and bake for a further 3 minutes until the tops are golden and crunchy.
Options
Replace the mixed spice with cinnamon.
Substitute the mixed peel for fennel seeds.
Chai cupcakes (vegan)
I love a spiced chai latte, and this brings all those flavours and puts it into cupcake form.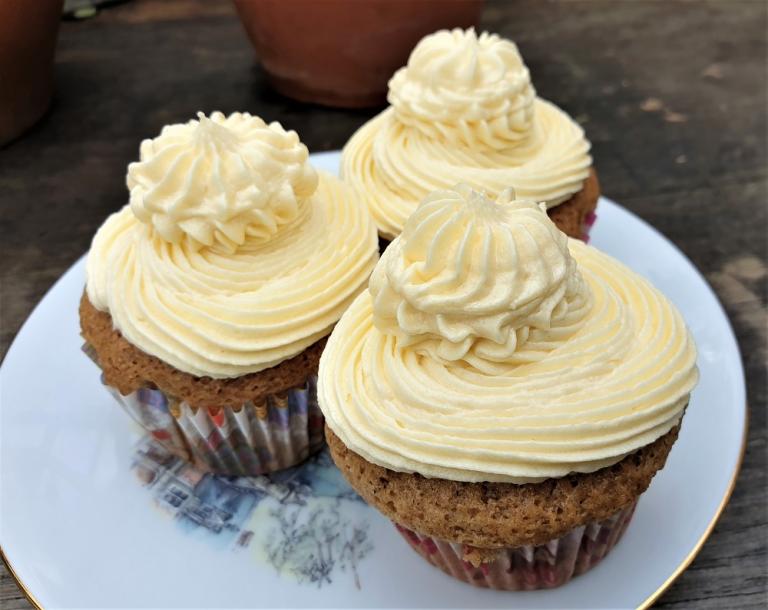 170g/6 oz almond or soya milk
225g/8 oz plain flour (all-purpose flour)
225g/8 oz sugar
1 teaspoon bicarbonate soda
½ teaspoon salt
110g/4 oz vegetable oil
2 tablespoon cider vinegar
2 teaspoons vanilla extract
1 teaspoon cinnamon
½ teaspoon ground cloves
½ teaspoon ground nutmeg
4 cardamom pods, ground
Frosting
150g/5 ¼ oz margarine (vegan or other)
350g/12 ¼ oz icing sugar (powdered sugar)
1 teaspoon vanilla extract
½ teaspoon ground cinnamon
Preheat the oven to 350F/180C/Gas 4.
Line a cupcake tray with paper cases, you should get 12 from this recipe.
Mix together the flour, sugar, bicarbonate soda, spices and salt.  In a separate bowl whisk together the milk, oil, vinegar and vanilla.  Pour the wet ingredients into the dry and whisk until combined, be careful not to over mix.
Fill the cake cases about two thirds full.  Bake for about 20 minutes.  Cool.
To make the frosting whisk the margarine, sugar, cinnamon and vanilla together until light and fluffy.  Ice your cupcakes.
Taken from Practically Pagan Cooking by Rachel Patterson
Publication 29th May 2020/Rachel Patterson/Kitchen Witch
A book to take you through the seasons. Cooking with produce when it is at its best (and cheapest). Recipes for all, with menu ideas to reflect the energy of each month of the year. Family style, no fuss cooking to nourish the body, spirit and soul.

12 sections with recipes for each month to reflect the product that is in season, which include; meat main, vegetarian/vegan main, soups, standard and vegan desserts, bread and of course…cake; both standard and vegan cake options.