Working with my weekly oracle card draw from the Flower Magic oracle deck, this week I drew 'Bleeding Heart – Sorrow'.
The meaning: BLEEDING HEART – SORROW
"This plant does what it says on the tin – the heart is bleeding.  Not literally (ye gods I hope not) but emotionally.  First of all…don't panic.  Sorrow comes in all forms and if acknowledged and managed properly it can be dealt with avoiding heap loads of drama queen stuff.  Sorrow can be distress caused by others, disappointment, unhappiness, despondency, misfortune or several other really depressing sounding words.  But, and here's the thing…life happens, ya gotta deal with what is thrown at you and move on with your life.  Others may well be spitting in your pool of tranquillity, but you can counteract it, they really are not worth your time and energy, dismiss it straight away.  You don't need to take on sorrow caused by the action of others.  This card usually signifies the superficial, dramarama 'oh your poor bleeding heart' type of sorrow.  I will allow you to throw yourself onto the chaise lounge for a few seconds but then you have just gotta readjust your tiara, throw on your feather boa and strut right outta there."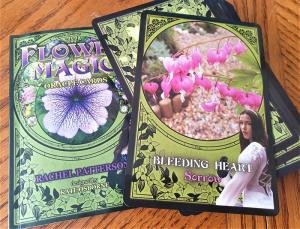 What do to?
I decided to focus on turning the sorrow around and do something uplifting by creating an uplifting spell pouch.
Correspondences
Herbs, Plants and Food for Uplifting
Cardamom, lemon, orange, bergamot (orange), Cardamom, Sweetgrass
Positive Energy
Chocolate, maple syrup
Happiness
Basil, cake, lavender, cheese, chocolate, grapefruit, honey, jelly, lemon, lemongrass, marjoram, orange, parsley, pine nut, quince, radish, saffron, sunflower seed, wine.
African violet, Agrimony, Borage, Catnip, Celandine, Crocus, Cyclamen, Daisy, Dragon's Blood, Hawthorn, Hyacinth, Lavender, Lily of the Valley, Marigold, Meadowsweet, Peony, Saint John's Wort, Sweetpea, Yarrow
Crystals for Uplifting
Blue lace agate, celestite, goldstone, jade (nephrite), larimar, lepidolite, moonstone, quartz, quartz (smoky), turquoise
Positive energy
Calcite (orange), copper
Happiness
Blue lace agate, moss agate, amethyst, aventurine (green), celestite, chrysoprase, citrine, gold, jasper, larimar, lepidolite, quartz (rose), rhodochrosite, rhodonite, sunstone, tourmaline, unakite
Tarot Cards for Happiness and positive energy
The Sun, The Empress, The World, The Star, Ten of Pentacles, Ace of Cups, Four of Wands, Queen of Wands, Ten of Cups.
Live Chat
In the video below I went live to chat about the meaning of the card and to work a spell to create an uplifting spell pouch.  I also answer some questions about the Craft along the way.