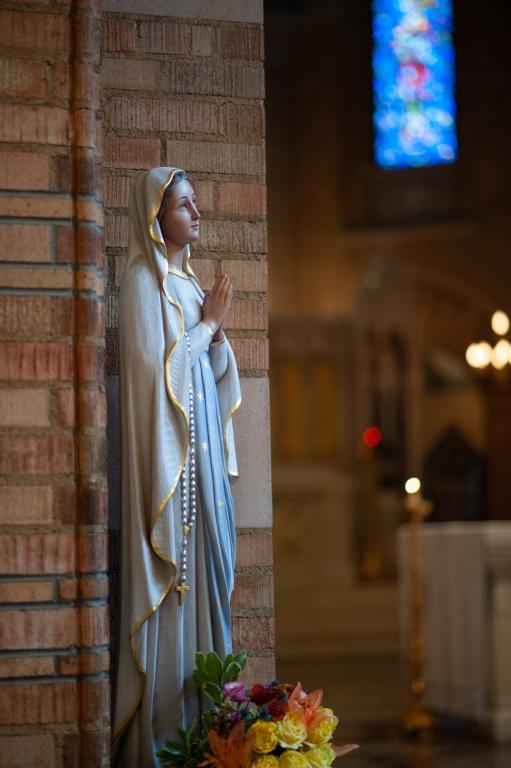 Today, as we celebrate the feast of the Visitation and the last day of the month dedicated to Mary, I thought it would be a good time to reflect on Mary's visit to her relative Elizabeth. We can learn a great deal by looking at the details of this memorable event. Initially spoken two thousand years ago, Mary's message is directed to each of us and still holds true today.
Mary Cares
After Mary gave her consent to become the Mother of the Savior, she "went with great haste into the hill country" to visit her elderly relative Elizabeth. According to Scripture, she made the decision to make the trip after the angel Gabriel informed her that Elizabeth was six months pregnant. That's it. There was no coercion or arm twisting involved. Putting aside all that was going on in her own life, Mary recognized that Elizabeth was in need and immediately stepped into action. How amazing is that?
Lesson: Mary cares about the needs of others.
Mary's Message
When Elizabeth "heard the greeting of Mary" (Luke 1:41), she was filled with the Holy Spirit and "exclaimed with a loud cry"…
"Blessed are you among women, and blessed is the fruit of your womb! And why is this granted to me, that the mother of my Lord should come to me? For behold, when the sound of your greeting came to my ears, the child in my womb leaped for joy." (Luke 1:42-44)
The sound of Mary's voice was all it took for Elizabeth to be filled with the Holy Spirit! And, while we shouldn't ignore the presence of Jesus (in Mary's womb), the Bible is very clear that the words coming from the mouth of the Blessed Mother had an effect on Elizabeth.
Lesson: When Mary speaks, something happens!
What Does This Mean For Us?
Don't make the mistake of looking at the Visitation and treating it as a nice story that happened many years ago. There is a message here for each of us. When Mary speaks, something happens. At the Wedding Feast at Cana (John 2:1-12), we once again see evidence of Mary's concern for others. The wine had run out and she immediately stepped into action, informing Jesus of the problem. Knowing that the Lord would handle it, Mary turned to the servants and spoke her final recorded words in Sacred Scripture. These words are so powerful that there was never a need for any of her future messages to be documented.
"Do whatever he tells you." (John 2:5)
Mary cares about you wants to help you with all of your needs. More than anything, however, she wants you to get to heaven and spend eternity in paradise. If you take her advice and do what she said , that's exactly what will happen!
Want to learn more about Mary's appearances in the Bible? Click HERE to purchase or learn more about my book Listen To Your Blessed Mother: Mary's Words In Scripture.