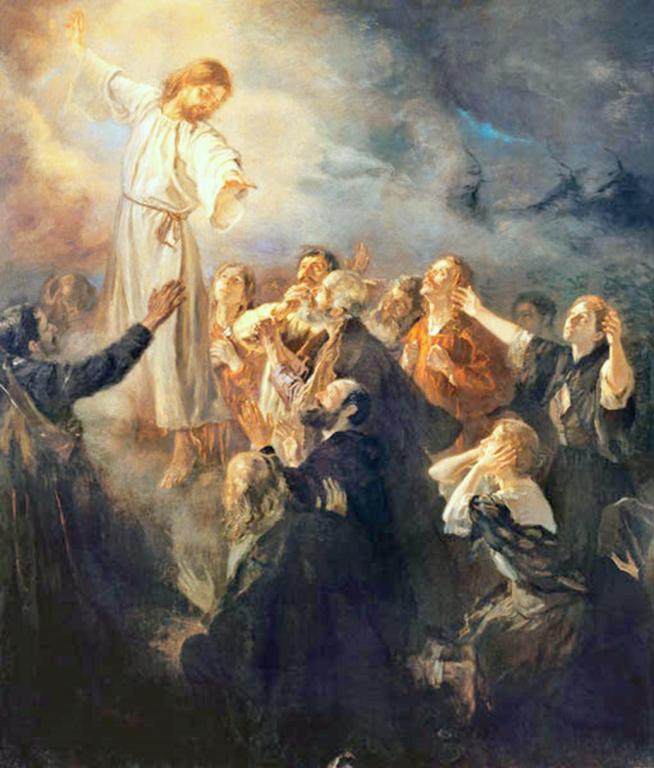 Then he led them out as far as Bethany, and lifting up his hands he blessed them. While he blessed them, he parted from them, and was carried up into heaven. And they worshiped him, and returned to Jerusalem with great joy, and were continually in the temple blessing God. (Luke 24:50-52)
Something about the end of Luke's gospel has always resonated with me. It's something that's so paradoxical that it almost defies belief. Did you catch it? After commissioning the apostles to carry on his work by preaching the gospel to all nations, Jesus ascended into heaven. His followers would no longer have the Lord with them and were being sent into a world filled with people who wanted to kill them. How did they react? By returning to Jerusalem with great joy!
Struggling To Find Joy
Many of us struggle to find joy in the drudgery of daily life. We might start off the day feeling good, but eventually something (or someone) comes along and snatches our joy away. Is there anything we can do? Well, yes and no. We can try to stay positive and control our thoughts, but sooner or later we will fail…unless we remember one thing. When the Lord ascended into heaven, he never expected his apostles (or us) to make it through life on our own. Trying to do so will only lead to frustration and misery.
Jesus Has the Answer
Before Jesus ascended into heaven, he opened the minds of the apostles to understand the Scriptures (Luke 24:45),  blessed them (Luke 24:50) and told them that they would soon be receiving the power of the Holy Spirit (Luke 24:49). Armed with a newfound understanding of the Scriptures, the Lord's blessing and the promise of the Holy Spirit's assistance, these imperfect men did what Jesus commanded and were filled with joy!
More Than a Physical Presence
Did you ever wish that you lived two-thousand years ago, when Jesus walked on the earth? It would give you a chance to experience his healing touch, confident reassurance and almighty power. With him by your side, you would never worry again and would be filled with joy. Or would you? Having Jesus with them in the boat didn't help the apostles relax when they encountered the storm at sea. What about individuals who lived during the time of Christ, but weren't able to meet him in person? I bet most of them weren't filled with joy when they ran into trials and tribulations. So what is the answer?
"It Is Better That I Go"
Jesus was limited when he walked the face of the earth. By taking on a human body, he could only be in one place at a time. After he ascended into heaven, however, the Lord would now be available to anyone who needs him at any time of the night or day. In addition, his departure would enable him to send the Holy Spirit to help us live holy and joyful lives.
"Nevertheless, I tell you the truth: it is to your advantage that I go away, for if I do not go away, the Counselor will not come to you; but if I go, I will send him to you." (John 16:7)
It seems crazy, but it really is a good thing that Jesus ascended into heaven and no longer walks the face of the earth. Just like the apostles, whose minds were opened to the Scriptures and who received the blessing of Jesus, we have access to the Bible, the Sacraments and the constant presence of the Holy Spirit. Taking advantage of these gifts will bring us the same joy experienced by the apostles after Jesus ascended into heaven.