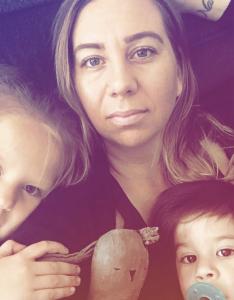 Motherhood has not ended up how I once imagined it to be so many years ago. It has been marked by a lot more loss and grief than I would have ever thought and the weight of all that can feel extra heavy on a day like today.
My day was kind of all over the place, pretty reflective of my everyday life. I cuddled a sick kid, chased a wild toddler around, and did some art therapy for my little one who misses her first mom deeply. It was surprisingly melancholy.
As we've progressed as a society, more and more people are beginning to realize how our innocent celebrations can sometime add salt to an open wound for others. And that can get messy real fast. Of course mothers deserve to be celebrated because that ish is hard AF. But empathy man, it goes a long way.
Perhaps more than anything today, I am deeply grateful for a spiritual community that reflects the diversity of woman and mother hood, but all who embody empathy. It was palatable this morning as my dear friend and co-mom Vanessa* preached the Word in our little church. She shared about Jesus' example of choosing people over law as exemplified in Matthew 12. She talked about mothers we know who are separated from their children because of disproportional value for law over human life. And as I listened to her sermon (you can listen to it here) and prepared my own words for our time of communion, I thought about the many women I know and do life with that consistently sacrifice for the people around them. I want to share, here, the words I shared with my church family in hopes that they will be not only be an encouragement to women in the trenches, but a reminder to us all that motherhood is a reflection of God.
"As I think about the women in our church, the theme of sacrifice – choosing to love people and mother in deeply selfless ways – is so evident. The Church is made up of incredible mothering women.
Women who've chosen to mother children they did not give birth to. Women who have mothered their siblings. Women who had babies before they were ready. Women who have been or are single moms. Women who are spiritual moms but get little to no credit. Woman who've had traumatic births and sick babies. Women who are growing babies in their bodies right now. Women who are trying to mother without their own mothers. Women who long to have babies. Women who've lost babies. Women who are committed, despite our brokenness and loss, to mothering each other's children as if they were are own. All of this is God's image in us. All of this is the character of God in us. 
We often focus so much on God as Father, but God is also a God who Mothers…who created and birthed us, who nurtures us, who is gentle with us, who sacrificed for us, who chose us. So today, let's reflect on the maternal aspects of God, that is so evident in the image of the cross and resurrection. The God who teaches us how to be mothers that choose to value people over the law and rules. 
I want to share an adapted version of a prayer a friend of mine prayed in the US House of Representatives this week, as he remind those in power to prioritize human life over law. (Get more info on Pastor Michael Wilker and this prayer here)
'Mothering God,
you gave us birth in the bright morning of this world.
Creator, source of ev'ry breath,
you are our rain, our wind, our sun.
As we celebrate mothers today,
we thank you for all the people who have served as mothers.
They have protected and nourished us,
defended and loved us,
by giving us their very own lives.
We repent of the times we have disrespected and abused,
enslaved and imprisoned people who have been mothers.
Send your fierce love to anyone who is suffering
because they care for children.
And, help us heal from the times mothers have hurt children.
Help us heal from the pain of loss, either loss of children or loss of mothers.
Knit us all together with creative wisdom,
feed us with bold compassion,
and send us forth with wild courage.
When mothers call us to justice and peace,
mercy and health, help us listen intently.
More than lending mothers a hand, let us follow their lead.
Amen.'"
May we be a people who continue to choose empathy, even when we don't fully understand the pain of others. And may we be women who own our maternal-ness as a direct reflection of the God who created us.
*You can read some of Vanessa's brilliant words at www.onthesideofgrace.com