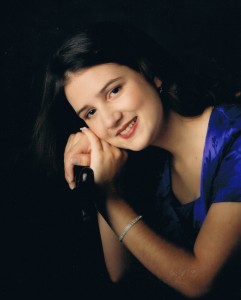 GOOD GRIEF — WHAT DOES IT LOOK LIKE?
Having recently gone through the devastating experience of having our beautiful 32-year-old daughter die, completely unexpectedly, of a pulmonary embolism, I was determined from Day One (January 11, when she was found dead in her home in Durham, N.C.) to be open to whatever positive thing there might be to glean from this.  I cling by my fingernails to the promise of Romans 8:28 that "God works all things together for good for those who love him…."
The first point that was immediately confirmed in my heart was theological: God did not do this to my baby.  God is not the author of evil.  God does not terminate sweet children's lives with pulmonary embolisms.  Pulmonary embolisms are a result of human fallenness and the bent nature of this world.
One of the primary reasons I am not a Calvinist and do not believe in such predestinings from the hand of God is (1) because I find it impossible to believe that I am more merciful or compassionate than God.   Also, (2) the Biblical portrait of God is that God is pure light and holy love; in him there is no darkness, nothing other than light and love.  (3) The words "The Lord gives, and the Lord takes away," from the lips of Job, are not good theology.  They're bad theology.  According to Job 1, it was not God, but the Devil who took away Job's children, health and wealth.  God allowed it to happen, but when Job said these words, as the rest of the story shows, he was not yet enlightened about the true nature of where his calamity came from and what God's will actually was for his life — which was for good, and not for harm.
So, for me, the beginning of good grief starts with the premise of a good God.  Otherwise, all bets are off.  If God is almighty and malevolent, then there is no solace to be found in God.   If God is the author of sin, evil, suffering, the fall, and death, then the Bible makes no sense when it tells us that (1) God tempts no one, that (2) God's will is that none should perish but have everlasting life, and that (3) death is the very enemy of God and humankind that Jesus, who is life, came to abolish and destroy.
"He came that we might have life and have abundantly."  If there are promises I cling to, as I weep for my sweet Christy, it is this promise, not the sorry solace and cold comfort of "God did this but we do not know why."  No.  A thousand times, no!  God and his will are always and only for what is good, and true, and beautiful, and loving, and holy.
As I stared at my baby in the casket — who did not even resemble herself at that juncture — I was so thankful that the God of the resurrection had a better plan for her than that cold comfort that "It's all God's will."  I believe in a God whose Yes to life is louder than death's No — not because God likes to hold antinomies like life and death together in some sort of mysterious unity, but because God is in the trenches with us, fighting the very same evils we fight in this world, like disease, decay, death, suffering, sorrow and sin.
They don't call him the Great Physician for nothing.  He too took the Hippocratic Oath: "Do no harm."