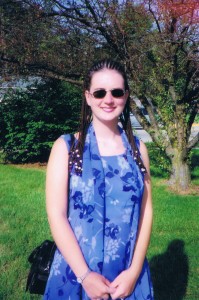 Christy Ann Witherington funeral 1st Church
2 Corinthians 4:7-11
January 18, 2012
Michael T. Powers
But we have this treasure in earthen vessels, to show that the transcendent power belongs to God and not to us. 2 Corinthians 4:7
Life is so very fragile, isn't it? We realize that so powerfully when we hold a newborn in our arms. This tiny life is so fragile, so dependent, so precious and so alive with wonder. We want to protect that child from all harm forever. We also realize how fragile life is at the end of life, when a loved one is no longer with us. He or she quietly, suddenly slips away, and the loss reminds us how delicate life is.
The apostle Paul reminds us of this fact that our bodies are perishable containers, so very frail and weak. We are like earthen pottery ware, he notes, jars of clay if you will. The image of pottery is that it is fragile and can easily become cracked, chipped, or broken if dropped. O, we try to care for these jars of clay, but eventually, inevitably they wear out. They do not last forever, and that causes us great grief and disappointment.
The mother of J.B. Phillips, the famous British Bible scholar and translator, died of cancer when he was still a boy. She had suffered off and on for a period of 10 years. During her final summer of life, J.B. often sat with her to keep her company. Her body had become only a shadow of what she had once been. Her mind, once keen and active, functioned only intermittently, and much of the time, she did not recognize her own son. Phillips wrote of this experience in his autobiography, The Price of Success:
I grew angrier and angrier that God could allow such terrifying physical and mental degradation to happen to such a wonderful woman. I gave up my religious faith utterly, for what use was prayer and talk of love of God when I returned daily to this horrible caricature of the spritely, witty mother I had known and loved? I became, as I thought, a confirmed atheist. The problem of human suffering is, I believe, the biggest serious obstacle to faith in a God of love today.
That is a very fair and honest expression of grief. These jars of clay chip, crack, break and wear out….but, thank God, that is not all there is to the story. Listen to this translation of 2 Corinthians 4:7-11:
This priceless treasure we hold, so to speak, in a common earthenware jar – to show that the splendid power of it belongs to God and not to us. We are handicapped on all sides, but we are never frustrated; we are puzzled, but never in despair. We are persecuted, but we never have to stand it alone; we may be knocked down but we are never knocked out! Every day we experience something of the death of Jesus, so that we may also know the power of the life of Jesus in these bodies of ours. Yes, we who are living are always being exposed to death for Jesus' sake, so that the life of Jesus may be plainly seen in our mortal lives. We are always facing death, but this means that you know more and more of life.
That particular translation of 2 Corinthians 4:7-11 may sound a bit different from other readings you have heard or read recently. It comes from the translation of John Bertram Phillips, J.B. Phillips as an adult, who said he was once an atheist, unable to reconcile the love of God and his mother's suffering and death. Can you imagine the feelings he had when he first wrote those words? I imagine a peace – an indescribable, heaven-sent peace – came over him, and he began to understand that in his amazing love and grace, God chooses to fill these earthen vessels, these fragile bodies, with his eternal treasure – the presence of the living Christ over whom death has no power. J.B. Phillips and Christy Ann Witherington both came to understand and believe that promise. Regardless of our outward appearances or life circumstances, God loves us, remains with us and gives us power to persevere through it all.
Our bodies, these perishable containers, are vessels that are to be used. They are meant to be filled and emptied for some purpose. They are the medium through which something good is made available to others. Perhaps this container is used for medicine for the sick, that container to provide water for the thirsty, or this container to offer soup for the hungry. As the vessel of life, the human body is used to benefit others, but is itself wasted away. Like the candle that gives forth light, it grows shorter with each passing hour until all its resources are expended.
In 1947, a Bedouin shepherd came across some old jars in the desert. These old earthen vessels contained what have come to be known as the Dead Sea Scrolls. These ancient words have been a tremendous affirmation of God's Word. What value could be placed on these scrolls? The jars themselves were not so valuable, but for hundreds of years, these clay jars served their purpose in protecting and preserving the priceless treasure of God's word. Similarly, we are like those earthen vessels. The treasure is the eternal glory of God, and yet God chooses to place that within human beings – fragile as we are – as the containers through which he will pour his glory out upon the world.
Christy, this beautiful, brilliant, courageous and faithful young lady, was a fragile, delicate earthen vessel, susceptible to the weariness of the flesh. Yet, through her living, she revealed something extraordinary. Her life was a treasure trove, a cache of blessing and love and joy and life to all who knew her. She loved her family, she loved her fiancé, she loved her friends, she loved God's creatures, she loved God's creation, she loved God, she loved her life, and through her, you knew that God loves her and God loves you. What a wonderful gift God gave the world through Christy.
Pictures will remind us of Christy's beautiful smile and loving and giving and engaging spirit. In our minds we will remember her voice, her laughter, her presence. We will remember experiences that will bring many smiles, lots of laughter and, of course, many tears. But our hearts will be blessed and comforted by the extraordinary power of the presence of Christ who lived within her, this precious, fragile, delicate earthen vessel, the Christ who desires all to know such love and life.
An old country preacher – I think he was from North Carolina – once made the comment, "I'll always get up one more time than you knock me down, and when I do, I am the one who is stronger." The tragic circumstances of life and even death itself were not going to have the last word as far as he was concerned. If you knew Christy Ann Witherington, you have to know that she would say the same thing. Christy was knocked down, and she got up. Knocked down again, and she got up again. Got knocked down again, and tried her best to get back up one more time. This time, however, Jesus was there to help her up, never to fall down again.
Christy lived, and died, and will live forever in this confidence:
So we do not lose heart. Though our outer nature is wasting away, our inner nature is being renewed every day. For this slight momentary affliction is preparing us for an eternal weight of glory beyond all comparison, because we look not to the things that are seen but to the things that are unseen; for the things that are seen are transient, but the things that are unseen are eternal.
Through Christy Ann Witherington, we have seen a glimpse of the eternal weight of glory God desires all to share with him forever. Therefore, my friends, let us live in this confidence:
Dying, Christ destroyed our death.
Rising, Christ restored our life.
Christ will come again in glory.
Here and now, dear friends, we are God's children.
What we shall be has not been revealed,
But we know when he appears we shall be like him, for we shall see him as he is.
Those who have this hope purify themselves as Christ is pure.
Prayer
O God, all that you have given us is yours. As first you gave Christy Ann Witherington to us, so now we give her back to you. Receive her into the arms of your mercy. Raise her up with all your people. Receive us, also, and raise us into a new life. Help us to love and serve you in this world that we may enter into your joy in the world to come. Amen.