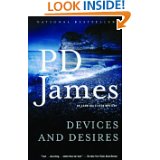 I have to confess I am a full-fledged fan of the writings of P.D. James. She could write about cricket and I would read it….and that is saying something. In fact I did recently buy on Kindle her tiny introduction to the book of Acts. Its beautiful, but too svelt, unlike her novels
P.D James' powers of description rival those of her biggest influences Jane Austen (and I would add Charles Dickens). The difference is that she writes murder mysteries, which is largely a modern genre of work in the English speaking world, considered too vulgar for real writers to indulge in, in the Victorian Era and earlier. When you read a P.D. James novel you need to: 1) turning off all manner of cellphones; 2) brew up a good cup of coffee from fresh ground beans, 3) find your favorite easy chair or reading spot, and settle in for a long atmospheric read.
James has said about herself that she generally takes 18 months for plotting and then another 18 months for writing her novels. What you should note about her is how very literate she is, and indeed she knows her Bible remarkably well, as well as her church history. If you want profound reflections on Biblical themes, read Original Sin, or Death in Holy Orders. And indeed her main character, Adam Dagleish is the son of a vicar, though he seems to have mostly left his faith in the vicarage.
Thanks to Christy's boyfriend, I acquired a Kindle Fire for my 60th birthday December 30th, and immediately decided to see what James could be found on Kindle (besides the Biblical book of that name). I found three novels by her, of somewhat older vintage, now all on Kindle—- A Taste for Death, Device and Desires (of the heart), and A Certain Justice. These are all three crackerjack novels full of polish and literate prose. No one knows how to create a mood, especially a brooding one, better than Dame James. Her characters are vivid, the action is sharp and pointed, the plots are usually excellent, and the insight into human nature profound.
If I had to choose between these novels I would say the latter two are a slight cut above the first one listed, but it is set in a parish church (murder in the cathedral, of sorts). One thing about P. D. James, she knows how to present us with truly wicked villains, so that evil stares us plainly in the face. James does not write for the faint of heart, or those who choose to ignore reality while they sing a fantasy song 'and the sky is not cloudy all day'. While I would not call James' novels apocalyptic, they certainly are about the battle between and juxtaposition of good and evil in the human sphere, and even in the individual human heart. This is a major theme in 'Devices and Desires' Here for example is the summary of that novel…..
"James sets her 11th novel on Larksoken, a remote windswept headland in Norfolk, where the presence of a huge nuclear energy plant serves as a metaphor for the power of the past to rule over her characters. Commander Adam Dalgliesh of New Scotland Yard, in Larsoken to settle an estate left him at the death of a relative, is drawn into the investigation of a serial killer, the Whistler. Dalgliesh's neighbors include the power station's director, Alex Mair; his elegant sister Alice, a cookbook author; acting administrator–and Alex's former lover–Hilary Robarts; and anti-nuclear activist Neil Pascoe. The next signature killing , of the widely disliked Robarts, turns out to have occurred hours after a young man who firmly establishes his identity as the Whistler commits suicide. The question of who murdered Robarts, then, centers around motive. This intricate, layered mystery may be read as parable: we can escape the consequences of our choices, political and personal, no more than we can shed our private histories. This is dark James, plotted with a slight unevenness but utterly faithful to her deeply and sympathetically plumbed characters."
I would disagree about the unevenness. Some of Grisham's novels are unevenly plotted, for example the latest one, reviewed on this blog, but not middle and late period James' novels. One of the things that constantly strikes me about British novelists like James, or Lindsey Davis or Paul Doherty or Ellis Peters is how much more literate they are than their American competitors and their novels show it in the style and panache and allusions we find in those works. In short, they had a better education, particularly in English literature, and frankly one's own style and writing is affected by what one reads and studies.
If you are looking for something to keep your attention, make you ponder life's vagueries and variety, and something to help you forget about your winter of discontent, I commend unto you P.D. James. She is the kind of novelist I aspire to be— someday when I grow up and gain more skill.