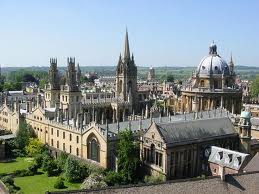 Oxford Vacation Term for Biblical Study 2013
by larryhurtado
The Oxford Vacation Term for Biblical Study (VTBS) is an annual opportunity to take in lectures by established scholars in Biblical Studies, and also offers the chance to acquire and refine abilities in biblical Greek and/or Hebrew. The event is organized by a group of volunteers, and has been held annually for many years. I've enjoyed invitations to give lectures, and have been very impressed with the quality of what is on offer.
In fact, I've wondered why it isn't better known. It's an excellent opportunity for anyone seriously interested in biblical study. Most of those who come are "lay" men and women who simply wish to have serious-level lectures by scholars, and many also invest impressive efforts in developing some ability in one or both of the biblical languages.
It is held in St. Anne's College, which offers very comfortable residential facilities, and one can book for the meals as well, offered in the St. Anne's dining facility. There are free times to take in the many attractions of Oxford, such as the Ashmolean Museum, and the numerous historic colleges. There are typically musical performances, plays, and other lectures on offer too.
To this point, there have been few from outside the UK who register for the VTBS. But I've thought that it would also be an additional reason for people from elsewhere to visit the UK. North Americans especially come over for summer vacation/holiday visits. For those who want to combine some study with tourism, the VTBS makes a great option. The programme for 2013 is set and you can peruse the brochure by typing into Google: Oxford Vac Term Bib Study 2013.