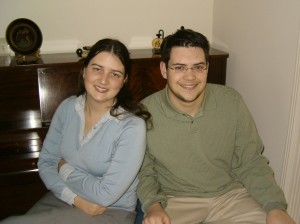 Emily Dickinson put it well…
My life closed twice before its close—
It yet remains to see
If Immortality unveil
A third event to me
So huge, so hopeless to conceive
As these that twice befell.
Parting is all we know of heaven,
And all we need of hell.
For me that first huge closing that I was helpless to prevent was the death of our Christy girl a year ago today. But closings are not all bad things. Don't we often speak of the need for closure? It was a small mercy for me when I got to the funeral home and went and looked in the casket my first and instinctive reaction was—– that's not my Christy. That doesn't even look like my untamed spirit. That is just a corpse masquerading as my daughter. To me it was a shock of unreality. If that's not Christy, where is she? Then a quiet voice said "she's with me, you have to let her go." But what does that even mean?
Does it mean I am no longer her Dad? I know I can no longer go to games with her or movies (the last one we saw was Sherlock Holmes. She loved that). I can no longer go to high church worship with her– she loved that too. I can no longer protect her or help her or comfort her. I kept thinking if I had taken her to my cardiologist while she was here Christmas 2012 and he did a full work up of her, maybe the embolism could have been discovered? Had I failed her at the last hurdle? I know it doesn't mean I have to stop loving her.
But today, a year later I am glad that I didn't make the mistake of thinking that the mere material remains of my daughter was all there was to my daughter or even the most important part. You know people go to cemeteries and talk to the dead, but they are not there. They've vacated the premises. Elvis has left the building. To be absent from the body means to be present with the Lord if anyone is any Christ. I remember thinking how incredibly heavy that mahogany box was that Christy's remains were in as I slid it into her resting place. Weighty ashes, but still, just ashes. Not Christy.
I drew some comfort from the story of David and his child who, once the child was reported dead, arose from his praying and grieving and knew it was important to move on. He said, 'he will not come back to me, but I will go to him'. Short of the resurrection, that answer is still true. So I am thankful that the shock of actually seeing Christy (flown from Durham to Lexington, dead already some days before we saw her) was simply a reinforcement—- she's not there, CLOSE THE BOX PLEASE.
So one last time, before they closed the box and we went home that night, I sang the song I regularly sung to Christy as a child at bedtime before we tucked her in— 'you are my sunshine, my only sunshine, you make me happy when skies are gray, you'll never know dear how much I love you, please don't take my sunshine away.' Yet when I was singing, it felt like the sunshine in my life had been taken away. It was hard. I walked out into an ugly January evening and went home depressed.
With the benefit of hindsight, I am now thankful for the strong disassociation I felt between the corpse and Christy. It was the Lord easing me towards some closure in a gentle way. I frankly will never understand the capitulation of many modern Christian thinkers to pure monism, pure materialism when the NT is so clear about affirming dualism— we are both body and a non-material spirit. And as Jesus himself said to the Father as he died 'into thy hands I commit my spirit.' Thank goodness Christy is still an untamed spirit gone to God, beyond her suffering, sorrows, and sadness, beyond disease,decay and death. Hallelujah.
People have asked me a lot how I am since Christy passed on. I tell them I am like a war veteran who is an amputee. The amputation was painful but the spot where the wound is healing up. Nevertheless, every single day when you get up without your left arm (I'm left handed), you realize something vital is missing and it's not coming back.
I leave you with a poem I wrote about Closure.
CLOSURE
Closure
The darkening of the day.
Full stop.
The light dies away.
Closure
It's all dead and gone.
Time's up.
You're left to carry on.
Closure
Tying up of loose ends.
Completion.
A new chapter begins.
Closure
Signed on the dotted line
Well done.
Some things left behind.
Closure
Yet there seems to be a void.
Finished.
Yet some things you avoid.
Closure
You've passed on the torch
No worries
You're rocking on the porch.
Closure
But He's not done with you
Perfection.
One day will come true.
Closure
'At the door I knock'
You open
Time to restart your life's clock.
BW3