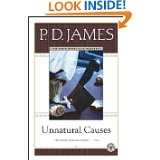 Sometimes the shorter novels are the best reads. P.D. James third Adam Dagleish novel aptly labeled 'Unnatural Causes', first out in 1967, is just that sort of novel. I nearly devoured the whole thing in one sitting on the plane coming back from Portland to Atlanta to Lexington. One of the reasons a shorter novel may be better is that it doesn't muck about with a bunch of subplots, that prove to be either frustrating or irrelevant. It's much more direct, to the point, and linear in quality.
One thing you can say about P.D. James, she certainly loves bringing the sea into her tales of mystery and murder. Whether its the Black Tower, or the 'Lighthouse', or 'Unnatural Causes' the brooding oceans that surround England on three sides as much actors in the drama as the humans in various cases. Here is the summary on Amazon for this particular salty tale—- "Maurice Seton was a famous mystery writer — but no murder from his imagination could equal the ghastliness of his own death. When his grotesquely mutilated corpse is found in a drifting dinghy, ripples of horror spread among his bizarre neighbours: the cruel and cynical drama critic, the celebrated recluse, the rakish young heir, the terrified woman waiting for her killer in a lonely house… It is up to Superintendent Adam Dalgliesh and his extraordinary aunt to discover the shocking truth about Seton's past — before the plot takes another murderous turn."
But in fact this is a bit of false advertising frankly. Dagleish is on holiday at Monksmere at his Aunt Jane's place, and the person in charge of the investigations is one Inspector Reckless (yes that's his name though it doesn't suit him at all. He's very cautious and methodical). Dagleish does involve himself in the case, but only because the Inspector consults him and allows him to be. For Dagleish, it is sadly a good holiday spoiled.
At one juncture in the novel we hear a familiar phrase— there are four L's that comprise the usual motives for murder:1) loathing; 2) lucre; 3) lust, and 4) love. In this novel, for the longest time, it is hard to say which of these might be the motivator. James likes to explore the theory of earlier crime writers that there is more evil lurking in a small community village or just a small group of people (say in the hospital) than one might imagine. In other words, she does not agree with the theory that evil lurks primarily in the city, but not in the idyllic settings of the countryside or small villages. She is utterly persuaded of the widespread depravity of humankind, and its resourceful ability to crop up most anywhere. For my money, there is no finer detective novel about original sin, than the novel by James named precisely that, but this novel is also very good at exploring such a theme.
James is very good at developing a psychological thriller, and at the same time reveals a sense of humor. It is hard not to laugh at the various egotistical writer wannabes in 'Unnatural Causes' who are far too overcome with the exuberance of their own verbosity, far too in love with their own words, and words, and more words. She is also especially good at skewering a very typical English trait— the love of eccentricity. And she does it all in beautiful prose which anyone can admire.
I have come to the conclusion that if you have not tried any James at all, you will find 'Unnatural Causes' a very good place to have a first go, naturally. You want regret it, not least because it will teach you a lot about human nature, something that Christians, and especially teachers and ministers should be avid students of if they wish their witnessing and rhetoric to be words on target.