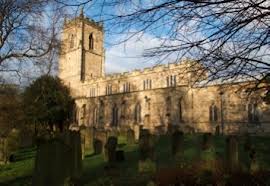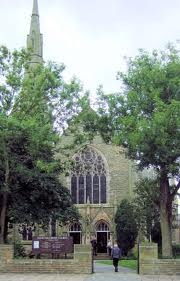 I awoke to the sounds of bells, and the wind. It was something of a conspiracy, a glorious re-bell-ion, so to speak. The bells were not merely pealing, they were appealing, they were saying on this side of the river and on that side of the river and downtown and on the edge town– "it's time to come church. It's Sunday." As for the wind, it was rattling my shutters, no chance of going back to sleep. It was a 40 mile an hour wind, but at least it was much warmer than the previous winds in the last several weeks. It was a spring wind, not an ill wind that augured no good.
So of course I got up and fixed my breakfast, took my pills, shaved, brushed my teeth, put on some clothes fitting for Sunday, and then off to Elvet Methodist I went. I was basically blown down the Bailey behind the cathedral, blown across New Elvet bridge, holding on to my cap, and blown down old Elvet to church. The service would commence at 10:45. I had mixed feelings about this… it was the church where Ann and I served 35 years ago, a very long time ago. She was the caretaker, I was the preacher on the circuit, the Sunday school teacher, and the person doing the D. Phil. It was in the caretakers house next to this church that we lived whilst in Durham, and here was Christy's first home. Here she came home from Dryburn hospital to sleep comfortable in a bureau drawer 🙂 Here, she became our British lass, our Durham girl. And she always wanted to still be that, even many years ago. She had told me she was going to come and join me on this trip down memory lane in Durham. Her work was largely on the phone and internet, so she could manage it. It would have been special….. but it was not to be.
So as you may imagine, there were some tears when I saw some wonderful old friends— Gerainte and Ruth Doubleday, Ken Kaye, whose black and white picture of Christy at Alnwick still hung on our wall until the recent renovations, the Allensons, the Watchmans, the Thompsons, and so many more. It was like a family reunion of sorts. I flashed back to the Sunday I first preached in this church, the many Sundays I heard Kingsley Barrett, my doctor father, preach in this church, the times I taught the children in Sunday school, the Miner's Gala tea in the great hall…. and many days of cleaning the church….. and so much more. Those were special days. But today was communion Sunday, and the lesson was on fresh starts, John 21, Peter and Jesus and breakfast by the sea and Peter's 'do over' after denying Christ three times. It was a good day… though it was also a sad day in some ways. Sundays can be that way.
I emerged from the church at 12:30 and headed off for a traditional dinner at Oldfields, a traditional British restaurant, and yes it was good, especially the sticky toffee pudding…. yum.
Sundays are days for Sunday dinner, and I had one by myself, or better said, just me and Jesus. Kind of like breakfast by the sea that Jesus had after the resurrection, with Peter. 'Yes Jesus, I do still love you. Yes I will still feed your sheep. Yes. But what about my own little ewe lamb…. is she o.k.? You're the great shepherd, so I have to trust you're watching out for her 'cause she is in your pasture now, and I can't see over the wall…. even a wee bit. Maybe that's for the best. God reveals enough of the future to give us hope, but not so much that we don't have to live by faith each day.
It's funny about Sundays in the U.K. Even the unchurched know its Sunday. You see little old men in suits on hands and knees in their garden clipping flowers or the grass with hand shears! They know, and they are observing it in a small kind of way. Anyway, the bells would not let them forget. The bells will never let them forget even if they try. It's Sunday and the first one of our sort was Easter… the resurrection, what a good day to remember Christy… and everlasting life.
P.S. the bottom most picture of Durham churches is Elvet Methodist.