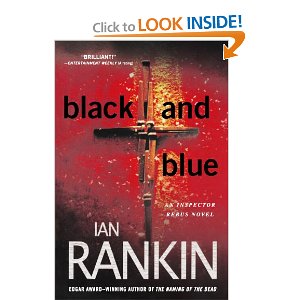 The novel which more than any other made Ian Rankin's reputation was Black and Blue. It won the CWA Macallan Gold Dagger award for best crime fiction, and probably was the main thing that prompted the attempts to bring his novels to TV… not just once, but twice in the U.K. There is a reason of course why these novels do not translate so well to the North American scene. It is because, though they are clearly written, even telegraphically so at points, they nonetheless involve Scottish culture, a certain amount of Scottish language, wit, cuisine etc. and as such come across as niche literature, or subculture specific literature. This problem does not exist for a writer like John Grisham precisely because what with American language, movies, TV being ubiquitous a North American writer has a ready audience all around the world, due to American influences of various sorts most everywhere, especially when it comes to popular literature.
In many ways this is a shame, because Ian Rankin is a very fine writer, and by Black and Blue (named after yet another Rolling Stones lp) he had hit his stride, in about 1995-96. While I was in Worcester this past weekend, my friend Tim Keyes, headmaster of the prestigious Kings School (connected to the Worcester Cathedral) told me an interesting tale. One of his former staff named Alistair had become friends with a young writer back in the day, when Alistair also had ambitions to write the great British novel. The two of them exchanged manuscripts, commenting on each other's work. While nothing came of Alistair's manuscript, the other writer in question was Ian Rankin as a fledgling author. There is another lesson to be learned from Rankin's own pilgrimage— namely his early novels were hardly smashing successes. It was only when his series had gotten some momentum and had begun to get some rave reviews, and then won the Silver Dagger Award that things changed. The rest, as they say, is history. He now has close to twenty novels in the John Rebus series.
But why would Black and Blue be singled out and so celebrated? In the first place it is a long novel, right at 500 pages, and it involves a plethora of villains, and complicated sub-plots. The main villains of interest are Bible John and Johnny Bible, the former being modeled on an actual criminal from Scotland who used to quote the Bible, hence the name the media gave him. The novel however in the main has to do with the North Sea oil industry, and it's darker side. It is full of tales about Aberdeen, and life on the oil platforms in the North Sea. John Rebus. While officially suspended and under investigation, is like a dog worrying an old bone. He just can't let it go. He has to solve things, or fix things, or both. He is obsessive, and compulsive, and compulsively obsessive. And OCD doesn't go away the older you get… if anything it may intensify.
There are many elements that can go into a masterful telling of a tale, and in this case, Rankin takes the time to let the story develop, and spends more time going into longer descriptions of Aberdeen, the oil industry, it's problems, the environmental impact etc. The subject matter itself is interesting, as is the way the huge infusion of Americans into Aberdeen has affected that city.
One of the more interesting elements as the story goes on, is that John Rebus, threatened with the possible ending of his career, begins to get his personal house in order— he stops smoking and drinking for one thing, but not without the help of his old partner Jack Morton whose been assigned to be his 'minder' while he is under suspicion and suspension. And who knows— maybe even there is hope for his love life as well? Could the man raised in Reformed theology in Scotland really be reforming? The answer to that question will have to await further novel developments, but I can say now— this is a crackerjack novel. If you want to try one of the early shorter novels, try Tooth and Nail. If you want to see how justice gets done Scottish style thanks to Rebus try Black and Blue.