When most people think of Cambridge, they think of the University, and of it's most famous college King's College and perhaps if they are musically inclined, the King's College choir boys. They think of the ornate front entrance or the view across the stream from the backs (see above). These days, they don't so often think of which King we are talking about… though his statue stands in the high wall outside the perimeter of said college—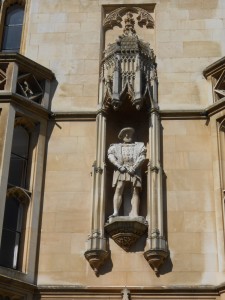 Yes that's him alright…. Henry VIII (cue Herman's Hermits). But did you know he was the founder of the first press in the English speaking world— Cambridge U. Press.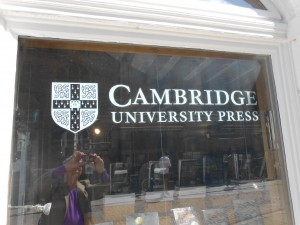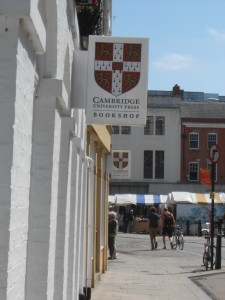 Since my dissertation was published in three volumes by CUP and since I am an editor of the New Cambridge Bible Commentary I am quite indebted to them, and presumably vice versa, since I've made them a good deal of pounds and gained a few in the process as well 🙂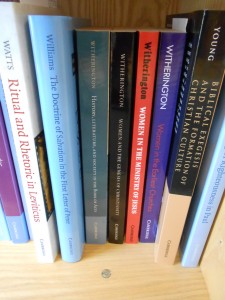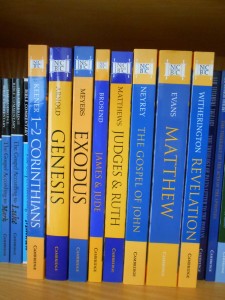 Here is a bit from the Wiki article on CUP—
"Granted letters patent by Henry VIII in 1534, it is the world's oldest publishing house, and the second largest university press in the world.It also publishes bibles and academic journals….[It] has been producing books continuously since the first University Press book was printed in 1584. Cambridge is one of the two privileged presses (the other being Oxford University Press). Authors published by Cambridge have included John Milton, William Harvey, Isaac Newton, Bertrand Russell, and Stephen Hawking.
"University printing did not actually begin in Cambridge until the first practising University Printer, Thomas Thomas, had been appointed in 1583, nearly fifty years after the grant of the Letters Patent. He set up a printing house on the site of what became the Senate-House lawn – a few yards from where the Press's bookshop now stands. In those days, the Stationers' Company in London jealously guarded its monopoly of printing, which partly explains the delay between the date of the University's Letters Patent and the printing of the first book.
"In 1591, Thomas's successor, John Legate, printed the first Cambridge Bible, an octavo edition of the popular Geneva Bible. The London Stationers objected strenuously, claiming that they had the monopoly on Bible printing. The University's response was to point out the provision in its charter to print 'all manner of books'. Thus began the Press's tradition of publishing the Bible, a tradition that has endured for over four centuries, beginning with the Geneva Bible, and continuing with the Authorized Version, the Revised Version, the New English Bible and the Revised English Bible."
In short, it has done as much for the general spread of the Gospel and the Bible in general, and theology and Biblical Studies as any publisher ever, and for longer as well. I am proud to be associated with and working for such a press, though I am thankful Henry isn't still on the premises.