The largest park area in all of Rome has at its heart the famous Villa Borghese, which today is really the Galleria Borghese, home to lots and lots of art, including some famous Bernini statues. You take the Metro to the Piazza del Popolo, and then its the upward call of God for you… up the hill to the huge park, even bigger than Central Park in NY, which includes lots of mansions now turned into ristorantes and museums. It's quite the walk.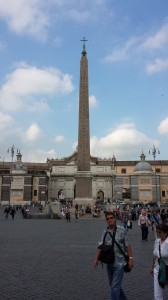 Sometimes it seems every piazza has a stolen Egyptian obelisk in it…. with a cross on top to boot. Here is the view of the square from the overlook at the back of the Villa Borghese park.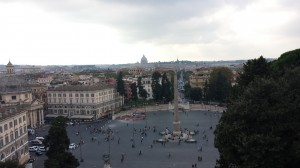 Notice St. Peter's in the distance. The views of the middle of city from this locale are spectacular.
This park is full of life, and beauty, and even a zoo. Here is one of the museums, surrounded by flowers…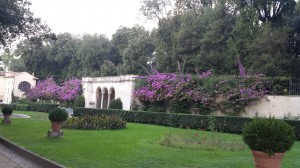 Once you are fully in the park, you can wander around for hours, but we headed to the Galleria, especially since Yuliya is an artist. Here is the famous statue in the Villa of Apollo and Daphne by Bernini, with Daphne turning into a tree! Don't you just hate it when your girlfriend does that.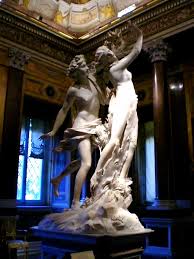 There are lots of famous paintings in the three floors of the villa— here are a couple of them. St. Jerome as usual contemplating his favorite skull..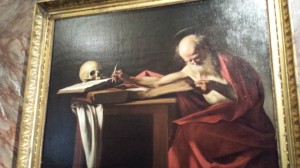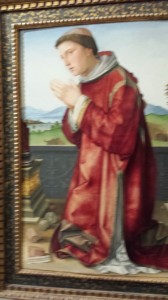 The outside of the villa is surrounded by fountains and statues…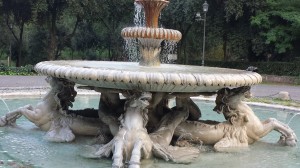 And here is the front of the villa itself….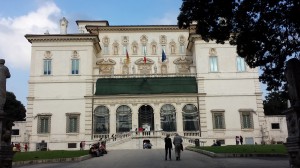 Did I mention you see a lot of interesting and strange things in the parks in Rome? Like a chalk artist who has colored up the sidewalk?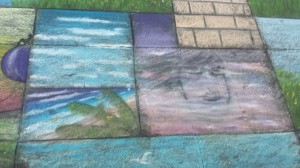 Or like a Tibetan monk levitating—- yes there is nothing underneath him, and he has exactly one hand holding on to a pole, and he is praying….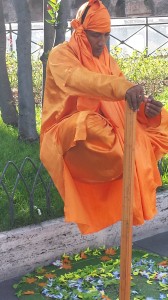 I can guarantee you there is nothing beneath him nor behind him supporting him. All one can see is just the pole he holds onto.