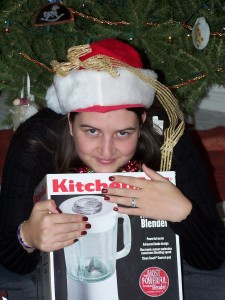 Christmas has been hard around here for the last two years. This is because our Christmas angel, pictured above, died suddenly Jan. 11th 2011. This Christmas will be different as well, as we go to Jacksonville, to be with my Mom and sister— in the heat of Florida. I've never experienced Christmas like that.
What happens when you have a child who suddenly and unexpectedly dies, especially a child who so loved Christmas, and was always the distributor of the Christmas presents is that your holiday seasons turn upside down. Instead of being the happiest time of year, it becomes the saddest. I still can barely look at pictures of Christmases between 1979 when Christy was born and 2011, our last Christmas together.
One of the hard lessons I have learned in all this is that while for many people Christmas is about family, in the first instance it ought to be about God and our relationship with God in Christ. What I mean by this is that the focus of Christmas must be on Christ, not on ourselves. If we make the focus on ourselves, well, family members are going to come and go. When we dwell too much on ourselves, death intercedes and steals our joy.
I managed to be somewhat joyful, or better said, occasionally truly joyful last Christmas, and hopefully this one. But there are subjects we just don't bring up, pictures we don't want to dwell on, stories we don't want to repeat. Now don't get me wrong, I am thankful for every single moment we had with Christy. She was someone special. I'm not selfishly suggesting I'm owed more. I'm not.
But when your children are so entwined with Christmas and with your heart, it's hard to untangle things. Very hard indeed. So I still grieve, but not as a person without hope, because the same Jesus that came as a baby, will come back as Lord, and raise the dead. I look forward to the day when he says to my sweetpea– 'Little girl arise'.
That's what gives me hope and joy as much as anything at Christmas time. The promise of the future, the promise of new life in Christ. In the meantime, I remember an especially good time our whole family had in Charlotte going to see Michael W. Smith's Christmas musical, which Christy liked a lot. Here is another excerpt from it.