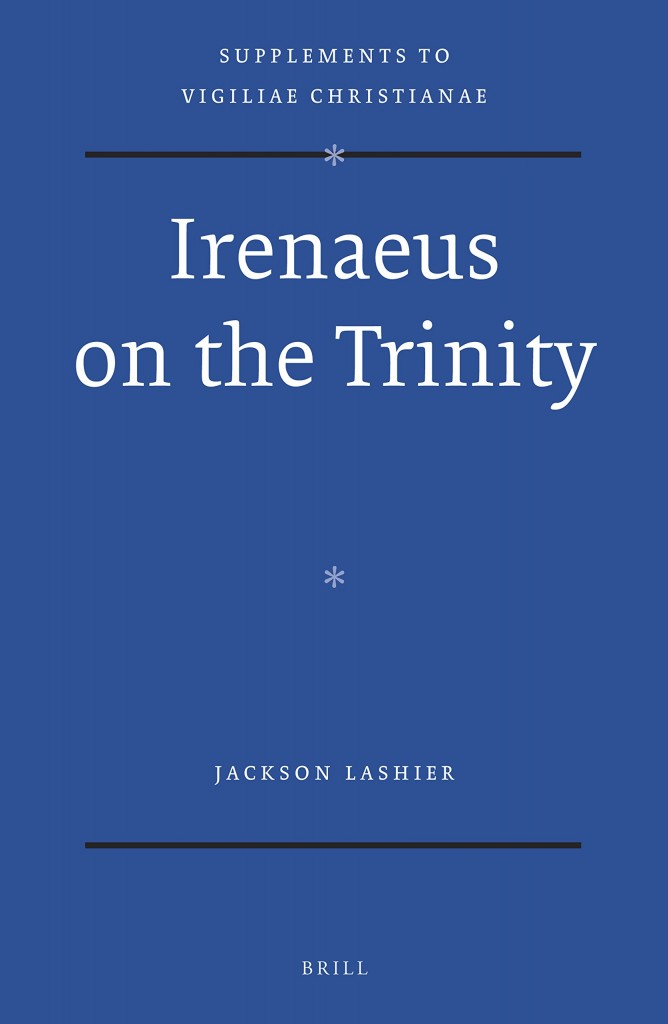 Dr. Jackson Lashier is a former Asbury student, and a John Wesley Fellow whom I helped mentor along the way. He teaches now in Kansas. His important doctoral work at Marquette was on the Trinity, and it has been published in the prestigious Brill series of monographs last year (256 pages, and don't ask the price!, which is typical of Brill).
——
Ben: First of all congrats on getting your dissertation published, and by published I don't mean self-published. Well done. Talk to us about why you chose the subject Irenaeus and the Trinity for your dissertation work? And why Irenaeus at all? Why not one of the other church fathers? Irenaeus has come in for some heavy weather from those who are fond of the Gnostic Gospels.
Jackson: Thanks very much Ben, and thank you for the platform to speak about my book and a topic about which I am passionate.
I was first introduced to Irenaeus at seminary. The professor in my first theology class, Chuck Gutenson, suggested that we should read through the Church Fathers to get a good grounding in the tradition of the Church. He listed a few, Irenaeus being one of them. I can probably go back to that page of notes and see all of the names he mentioned woefully misspelled. I had just never heard of these guys! But this was probably the single most important piece of advice I received in my theological education.
Irenaeus' name kept popping up that first semester in various secondary sources I was reading. I remember being intrigued by what I read about his theology, particularly his focus on incarnation and the importance of affirming salvation as the restoration—not the destruction—of God's creation. This conflicted with the brand of theology I had somehow internalized prior to seminary, a theology which assumed a sort of disembodied, spiritual afterlife and had no way to account for creation and, consequently, the story of Israel. So because of this dissonance, the summer after my first year at seminary, I read through Irenaeus' Against Heresies. I was hooked.
Irenaeus' theological vision changed the way I thought about God and about the story of salvation. I was drawn to those aspects that initially contradicted my theological sensibilities, namely, the focus on incarnation and the restoration of creation. Yet I also remember seeing the Trinity throughout his work. The experts told me I shouldn't see it; the dominant scholarly narrative at the time was that Irenaeus was much too early to assume a Trinitarian understanding in his thought, that the doctrine of the Trinity took many centuries to develop because of the strong Jewish roots and attendant monotheism that marked early Christianity. I was told I was being 'anachronistic'—there's a scholarly put down for you. But I couldn't shake my intuition. In fact, it became impossible for me to understand the logic of his thought apart from assuming that God exists as Trinity.
I continued my studies at Marquette University, pursuing a doctorate in Historical Theology with an emphasis in Patristics. This program gave me a wide understanding of Patristic theology and introduced me to many more, important Church fathers. But I kept coming back to Irenaeus. So when it came time to choose a dissertation topic, the figure was a no brainer. I considered several areas to study, but ultimately pursued that intuition I had as a naïve seminarian. Through a comparative study of Irenaeus with several other writers, both his Apologist sources and his Gnostic opponents, I argue that the logic of his works reveals a more developed Trinitarian theology than has traditionally been seen in Irenaeus' work.