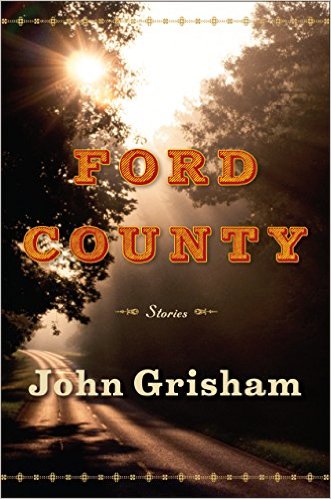 John Grisham is too well known for his full length legal thrillers to need any introduction, but what is less well known is that he is an excellent short story writer as well, as is demonstrated amply in the seven short stories which comprise Ford County. Some southern writers have proved to be much better at short stories than novels (e.g. O. Henry) and others much better at novels than short stories (e.g. Walker Percy), but Grisham is ambidextrous as a writer, and these stories are just excellent. They are morality plays in miniature with a decided concern for justice, and a wry sense of humor about life's incongruities and unfairness. The setting for these stories is the same as his first novel, A Time to Kill, which he could hardly get anyone to buy at first— hawking it at book clubs, garden clubs, country clubs, and whatever venue in Mississippi would listen to his spiel. Needless to say, perseverance paid off for this ole Mississippi boy and sometime lawyer turned writer.
For 354 pages one is immersed once again in the life of small town deep South with all its problems and promise, all its petty and pretty ways. Here is the description of these tales on Amazon: "Each story explores different themes-mourning, revenge, justice, acceptance, evolution-but all flirt with the legal profession, the staple of (former attorney) Grisham's oeuvre. Fans will be excited to settle back into Grisham's world, and these easily digestible stories don't disappoint, despite their brevity. Full of strong characters, simple but resonant plot lines, and charming Southern accents, this collection is solid throughout; though his literary aspirations may seem quaint, Grisham succeeds admirably in his crowd-pleasing craft while avoiding pat endings or oversimplifying (perhaps best exemplified in "Michael's Room," which finds a lawyer facing the consequences of successfully defending a doctor against a malpractice suit). As always, Grisham balances his lawyerly preoccupations with a deep respect for his undereducated and overlooked characters."
As a Southerner myself, and one who writes in this genre (see my forthcoming novel Southern Discomfort out in late May, what I really appreciate about Grisham's stories is that he avoids caricature and type casting in his cast of characters. Yes, there are rogues and roustabouts aplenty, there is 'trailer trash' as they call themselves, and southern gentry, but the characters do not always play to type or in predictable ways, and Grisham has a knack for showing the good side of even an unlikable person, and the bad side of even those who are morally upright. Grisham knows small town Southern life all too well, with its gossip, and wheeling an dealing, and racism, and tragedies and triumphs. Like Flannery O' Connor he can write in a humorous way while unmasking human hubris and follow (see the story called 'Casino') and he can write with great empathy (see the story called 'Michael's Room'). He certainly subscribes to the notion that it is regularly true that 'your sins will eventually find you out' or have to be paid for.
If you're not sure you're up for novel length Grisham, here's an excellent place to start to get the full flavor of his Southern style and wit and wisdom.