There are only so many bands of the 60s through the 90s that I haven't seen, that are still on the bucket list. One of those bands was Duran Duran, an 80s synth-pop band with a fashion sense and an attitude. Some of their songs were instant classics— like Hungry like the Wolf, Undone, View to a Kill, Notorious, Save a Prayer, and especially Ordinary World. Unlike some bands, these hits were spread over several albums so there wasn't one or two classic albums. In an age before downloading, this presented something of challenge. One had to wait for their ultimate greatest hits CD.
First of all the Mitchell pavilion in the Woodlands is a great indoor/outdoor venue to see any concert. It is built into a hill so you can sit on the grass at the top of the hill and watch, or you can sit under the canopy protected from the elements.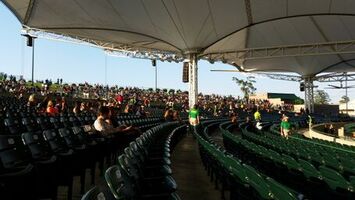 The video screens at the Pavilion are awesome…..and it is not a surprise that lots of bands like playing in this excellent venue….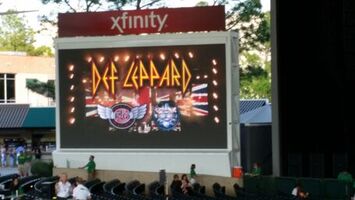 This particular concert began at 7 p.m. on a very pleasant sunny day with a light breeze. Perfect for such a concert. The reason the concert started so early (and went until 11ish) is because it involved 3 bands for the price of one— The Bag Raiders (a new Aussie band, double synthesizers and singers and a drummer. They had several good songs and played for 30 minutes), Chic the Nile Rodgers fronted funk band, and of course Duran Duran. Interesting fact— Nile Rodgers has written more hits for other bands than for his own band, including Notorious for Duran Duran, I'm Coming Out for Diana Ross, We Are Family, and numerous others including most recently for Daft Punk. Chic brought their full horn section and they absolutely boogied down. Most of the stadium was dancing throughout, and they had some good light show features too….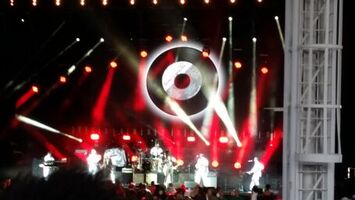 Here's Nile the guitarmeister….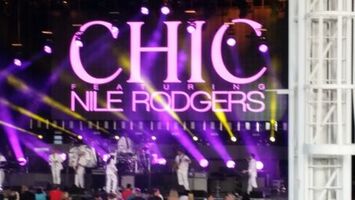 Nile brought two superb soul sisters to do the singing, and they were excellent especially on the hits like Good Times, Le Freak, Everybody Dance etc. These songs were hits during the height of the disco and then dance craze eras.
As for Duran Duran, they brought out the full armada— all sorts of new T shirts, new videos crazy fans dressed for the occasion—-for example,
Duran Duran was touring behind their new lp— Paper Gods, which has several good songs, though the title song is not upbeat, and a little too heavy duty. Too ominous….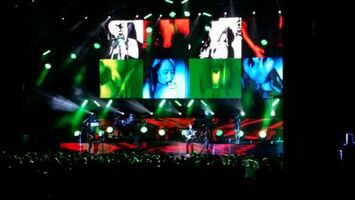 .
As for the band, Simon le Bon's voice was a bit scratchy sadly, but otherwise the band was in good form…..and there were a couple of the original members of the band involved…. for instance, this gentleman who looks the very same as he did in 1982! Scary!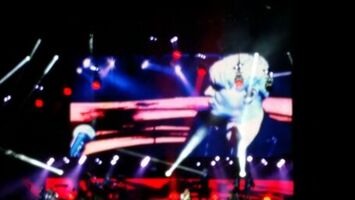 I really enjoyed this concert and the venue as well. Lot's of fun…. check mark on the bucket list…