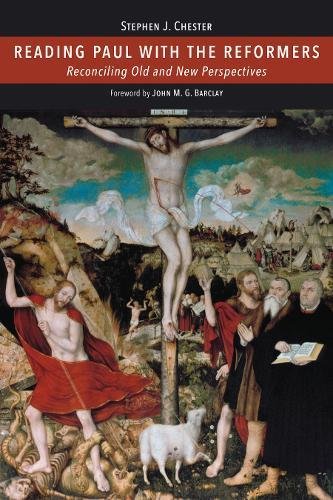 Ben. Let's deal with a terminological issue briefly. Erasmus got his forensic or imputation idea about dikaiosune from reading the Greek in light of reading the Latin Vulgate, not from profound study of the semantic field of the Greek. Calvin in particular, being a lawyer, fell right in line with this law court use of the language. But the word dikaiosune means righteousness, over and over again in Greek literature. It normally has a moral not a juridical sense and that is surely the sense of the word in Rom. 1 in light of the following context. It does not have the narrower sense 'justification'. Furthermore, the quote in Rom. 1.16-17 from Habbakuk is also not talking about justification, it's talking about actually being righteous in the eyes of God. So, for my part I am not happy with all the banter about 'justification'. Martyn's 'rectification' seems nearer the mark, or even 'being set right' in right relationship with God does it more 'justice' or even Sander's 'righteoused'. How would you respond, and how would the Reformers respond?
Stephen. In this answer I rely on the excellent work of my colleague Max Lee, "Greek Words and Roman Meanings Part 1: (Re) mapping Righteousness Language in Graeco-Roman Discourse" and "Greek Words and Roman Meanings Part 2: A Prolegomenon to Paul's Use of Righteousness Language in his Letters," both in Fire in My Soul: Essays on Pauline Soteriology and the Gospels in Honor of Seyoon Kim (Eugene, Or.: Wipf & Stock, 2014). Undoubtedly one of the principal meanings of the noun in our Graeco-Roman sources dikaiosune is "just and righteous character" as a moral disposition. However, it can also mean the administration of a just standard or norm to establish order. The verb dikaiow does not in our Graeco-Roman sources carry the specific sense of "acquit" but in legal contexts it does mean to declare someone just or to judge someone to be in the right.
So, I take Paul to mean that the righteous person is someone who does what he or she ought to do, that righteousness is doing what ought to be done, and that when a judge justifies a person it is a declaration that this individual has done what is right and not what is wrong. This is why I believe that Luther and Calvin in their different ways (ironically Luther does not often use legal metaphors in relation to justification, but prefers marriage metaphors) are on the right track in interpreting Paul when they link justification so closely to union with Christ. For Paul, the declaration that someone is just or in the right is not fictional because it transfers the person who has faith from the dominion of sin to the reign of grace. Within that reign of grace, the believer is united with Christ by the Spirit and it is in their union with Christ that those who believe receive his righteousness. Christ is the one who has done what is right and not what is wrong. It is therefore when the forensic metaphors get detached from a strong sense of union with Christ (as in Melanchthon's exegesis) that I think there is the potential danger of uncoupling the forensic from the ethical in the way that you describe.